Spider Playdough Activities: An Invitation to Play
Here are some fun ideas for spider playdough activities for your kids. Learn how to make black playdough and use the material ideas to make fun spider invitation to play.
I don't like real-life spiders…particularly the kind that I have encountered since moving to Texas (everything is bigger here!). I did have fun pulling together supplies to create some spider playdough activities for kids.
Below you will find a bunch of material ideas for a spider-themed or Halloween invitation to play. Plus I included some tips and tricks to help you make black playdough.
f your kids can't share supplies, don't worry. You can use the playdough tray ideas below to create individual playdough kits for your kids.
This post contains affiliate links for your shopping convenience. I receive a small commission each time someone makes a purchase through one of the links.
Black Playdough
You don't have to use black playdough when creating your spider playdough tray, but I think it just adds to the creepiness. It's especially fun for Halloween time. I made my playdough with my quick playdough recipe. Here are the directions if you want to make your own:
Ingredients
3 cups flour
¾ cup salt
5 tbsp cream of tartar
3 cups water
3 tbsp vegetable oil
black gel food coloring (see tips and tricks)
anise extract (optional)
Directions
Mix the first 5 ingredients together in a large pot. Stir and heat over medium heat. The mixture will look like a globby mess. When it starts to form a ball in the center of the pot, remove it from heat. Place the mixture on a lightly floured cutting board or cookie sheet* and knead until smooth. **The black food coloring could discolor some surfaces, so you may not want to knead this color of playdough on your countertops.
Tips and Tricks
Tips and tricks: Be sure to add the food coloring along with the liquid ingredients. One time, I made the mistake of trying to knead the food coloring into the playdough. It was a lot more work to add it at the end. You may have to play around with the black food coloring. If you don't add enough it will look sludge-colored (which is not all bad for spider playdough). If you add too much, it will make your hands a little purple when you play with it. I'm typing with purple palms at the moment 😊.
*Be aware that the dark coloring could transfer onto your classroom tables. That also happened to me once…but it came off in a few days. Playing with the playdough on plastic trays or cookie sheets will prevent the problem. It's fun to use anise extract if you have some on hand. The playdough will smell like black licorice.
Add Some Sparkle to Your Playdough
The playdough is ready for creating as it is, but you or your kids can add some mix-ins to increase the wow factor. Give your kids a little bit of glitter in a salt shaker and let them knead it into the play dough. Black glitter adds a really nice sparkle.
While digging through my supply closet I found a container of fake snowflakes. We experimented with adding some to the black playdough. It created a really interesting look and texture….very cool!
Fill Your Playdough Tray
Okay, now comes the fun part. Look through your craft supplies, office supplies, party supplies, etc for materials to create your spider-themed invitation to play. Here are the materials that I added to the playdough tray:
Colorful googly eyes
toothpicks
small black rocks
metallic pipe cleaners
binder coils
number cards
Don't feel like you have to use the same materials as me. Think legs, eyes, webs, and get creative. Here are a few more ideas:
It's so much fun to see what kind of things kids create with an open-ended activity like this.
If you want to add additional math learning opportunities, add some number cards to your set. These spider web number cards are part of the Spider Activity Bundle in my store.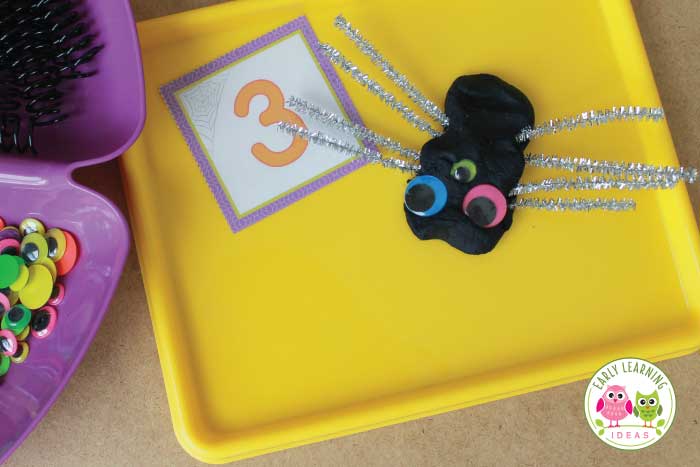 I hope that you have fun putting together some spider playdough activities. I would love to hear what materials you add to your spidery invitation to play. Please share them in the comments below.
---
Are you looking for additional spider-themed learning activities for your classroom? Check out these spider resources in my store. Click on the images below to learn more.