Art Activities with Spider Webs
Did you know that you can use packaged spider webs for art activities? Here are several ideas for creating spider web art with your kids.
It's always fun to try out new art materials. You know those packaged spider webs that you can purchase around Halloween? Everyone knows that you can use them to decorate for the holiday. Did you know that you and your kids can use them to create art activities for preschoolers?
Here are a few ways that you can use spider webs for your art activities. These will be great activities for your Halloween, fall, or spider-themed unit. They could also be a fun activity at a Halloween party.
Usually, you can find packages of spider webs at craft stores and big-box stores in September and October. Be sure to be on the lookout for them after Halloween. I have been able to pick up a bunch on clearance for next to nothing and I just save them for the following year.
Spider Web Stamps
To create the stamps I cut off a small portion of spider web. I then stretched it around the opening of an empty cup or container and secured it with a rubber band or two. After securing it, I trimmed up the edges to make them a little bit neater. If you want to make them look super neat, you can use a plain cup and secure the web with duct tape or colored tape.
I added some black tempera paint to a container. You may have to thin the paint a little bit with water. Then we pressed the spider web stamp into the paint and made prints on colored paper. You may also want to try to use a "stamp pad" like the one I used in the next activity.
If you want to try a non-tradition paper for your stamps, try paper towels. It's really interesting to see how the paper towel absorbs the paint.
Spider Web Roller
I used a pool noodle to make a roller. First, I cut off a section that was about 6 inches long. Then, I made the handle by cutting a wedge of noodle and sticking it in the hole. Okay…it's not the neatest handle, but it works. You can also use a round block, thick dowel, or spool. I just didn't have any of those on hand and improvised.
I cut a section of spider web and stretched it out. Then, I wrapped the web around the roller and secured it in place with a few rubber bands.
I found that when we dipped the roller directly in paint, there was too much paint and the detail of the webs was lost. To solve this problem, we added the thin black paint to a few folded paper towels. A foam meat tray would be the perfect container to hold this "ink pad". I didn't have one on hand, so I used a rectangular lid.
After applying the paint, we rolled a design on some colored paper. It really produced a wonderful design.
Stretchy Spider Web Art
In addition to painting with the web, you can just let kids be creative with it. Again, I cut off a section of web. Provide some masking tape and black paper or a black paper plate and just let kids create.
We had fun stretching the webs and taping them into place.
If you like, you can provide some plastic spiders to add to the creation. You can also provide a tinker tray filled with supplies that kids can use to create spiders, bugs….or whatever they want to accompany their web.
Spider Web Paint Brush
The final spider web idea that I want to share is the spider web paint brush. This time I used the webs with duct tap and wooden dowels that I picked up at the Dollar Store.
I cut off a section of web and taped it to the end of the dowel. Tada…..a paintbrush!
We used the paintbrush in two different ways. First, we added drops of paint to a piece of construction paper. Then, we used the brush to spread the paint.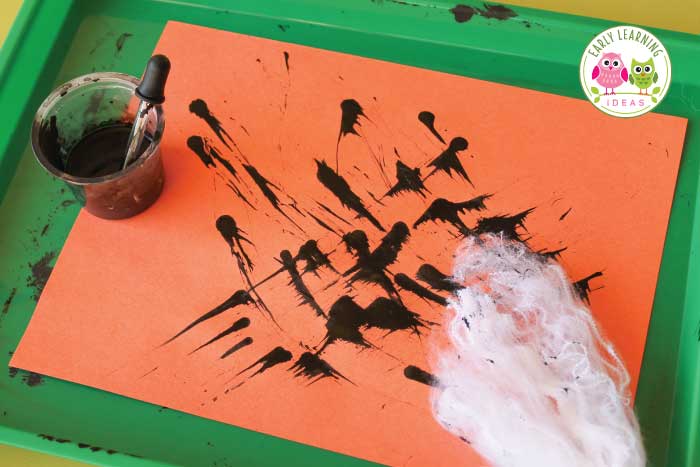 We also dipped the brush directly into the thin paint. It really made some beautiful brush marks!
I hope that you might be encouraged to use spider webs in some new ways with your kids. Let me know if you try out any of these art activities.
---
Are you looking for additional spider theme activities for your kids? You may also be interested in the following spider activities from my store:
.