The Best Monster Activities for Kids
Check out these fun monster activities for kids. These activities ideas are perfect for your Halloween theme or monster theme unit or lesson plans in your preschool classroom. Your students will love these monster learning activities.
Are you looking for some engaging activities for your monster theme unit or fun fall and Halloween lesson plans? Today I am sharing a bunch of ideas for monster activities. I think that you and your kiddos will enjoy these fun, silly activities.
I think they will be a perfect addition to your Halloween theme lesson plans.
Monster Play Dough Activities
Create a monster-themed play dough tray using a wide variety of items. Pipe cleaners, bottle caps, toothpicks, craft sticks… I love searching around for fun materials to use. If your kids can't share supplies, don't worry. You can use the ideas below to create individual playdough kits for your kids.
Above, I added some eye peeper rings and vampire teeth that I picked up at the Halloween shop at Target. The hinged vampire teeth always wanted to open up, which destroyed our playdough designs. To solve this problem, I cut the teeth in half at the hinge.
The coils in the tray are the binding coils that I use for my binding machine. I just cut the coils into small sections. Pretty silly, don't you think?
Monster Themed Shape Activities
The next idea is to make monster creations from shapes. I found a great book of eye stickers at my local craft store and I have also seen similar ones at Oriental Trading. Cut out some shapes from brightly colored construction paper. Then, kids can glue them down, add sticker eyes, and then they can complete their monster creations with crayons.
This Feed the Monster Activities for Preschool set can be used to work on many different concepts…including learning to recognize shapes.
Monster Color Sorting Activity
Kids love sorting monster eyeballs by color with this cute monster color sorting activity.
Monster Fine Motor Activities
This fine motor activity was inspired by a monster that I saw on Pleasantest Thing. Kids can create a monster by punching holes into a section of a paper towel tube. Then they add pipe cleaners and binder coils through the holes. The monster is completed with some silly sticker eyes.
Do you want kids to create some truly innovative monsters? Create a monster-themed tinker tray for them. You can use any type of age-appropriate crafting materials in your monster tinker tray. Mine includes paper towel tubes, craft noodles, bottle caps, binder coils, googly eyes, puffballs, toothpicks, craft sticks, yarn, washi tape, glue, scissors, and a hole punch.
Here are some additional monster-themed fine motor activities.
Monster Letter Practice
Use a monster finger to practice letter tracing in a salt tray. Kids can also get letter practice with slime. They can use the monster finger to trace letters into a blob of slime.
Monster Books for Kids
Are you looking for some great monster theme books to use during circle time or to add to your class library? Click on the image below to find a list of my favorite monster books for kids.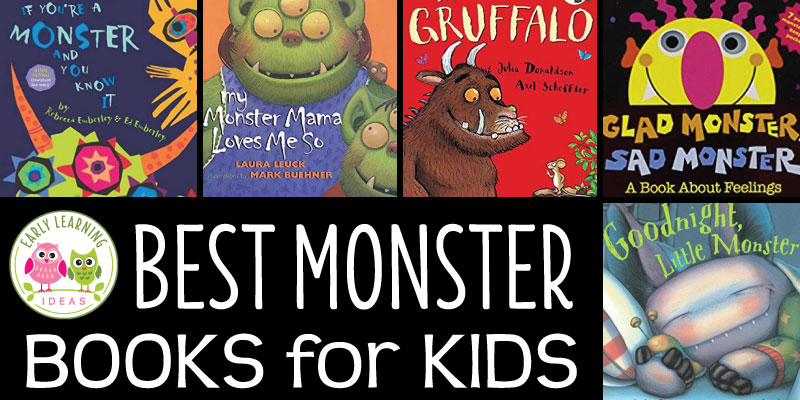 Monster Gross Motor Activities
Are you looking for a fun and easy monster movement activity? It's super simple to make goofy monster puppets with peeper rings.
First, tie pieces of metallic mesh tube ribbon and pipe cleaners to a hair tie. Place the hair tie over a child's fingers to make crazy hair. Add an eye peeper ring…. and …… tada ….an instant monster puppet.
Use the monster puppets while dancing and singing. The perfect music is Laurie Berkner's Monster Boogie.
Here are some additional monster movement activities for your kids:
Monster Literacy Activities
Here is a silly hands-on way to help kids learn to recognize letters. Draw a letter M on a piece of paper or use ABC Dot Letters. Kids can add "monster eyes" to the dots or along the shape of the letter as they practice the "m" sound, work on letter formation, letter recognition, and even fine motor skills.
The Feed the Monster set can also be used for letter sorting, beginning sound matching, and rhyming activities. Learn more about the feed the monster activities here.
I hope that you enjoy trying out some of these monster activities for kids. Do you have another favorite idea for a monster theme or a Halloween theme? Please share in the comments below.
---
Purchase The Printables Today
Here are the resources from my store that are mentioned in the article above. Click on the images below to check them out.
Purchase on TPT
Do you prefer to shop at Teachers Pay Teachers? You can also purchase the Monster Activity Bundle and the Alphabet Dot Activity Pages in my TPT Store.
People are always asking me where to find the materials that I use on my website. Below are some similar items from Amazon. The links are affiliate links. If you decide to make a purchase through my link, Amazon will pay me a small commission for it. This doesn't cost you anything additional, but these commissions help me maintain my website….so thanks!