This is What You Need to Know about Playdough Activities
Learn with Playdough
I don't know about you, but I have fond memories of playing with playdough as a child. I was having so much fun engaging in playdough activities that I didn't even realize that I was learning.
Learning?….Yes! Playdough activities provide some of the best opportunities for learning and development in the early childhood years. Here you will find everything that you need to know about playdough from benefits to recipes to creative activity ideas.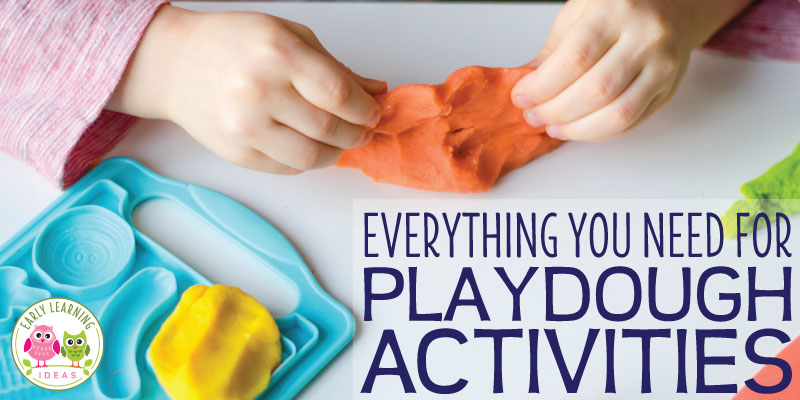 This post contains affiliate links for your shopping convenience. I receive a small commission each time someone makes a purchase through one of the links.
Benefits Of Playing With Playdough
While kids are squashing, smooshing, and shaping their blob of playdough they are also experiencing many benefits.
Fine Motor Skills
Manipulating the dough helps kids strengthen fine motor skills and enhance hand-eye coordination. Developing hand strength, control, and dexterity in the little muscles of a child's hands and fingers will help them out as they learn to grasp a pencil or learn to cut with scissors
Creative Expression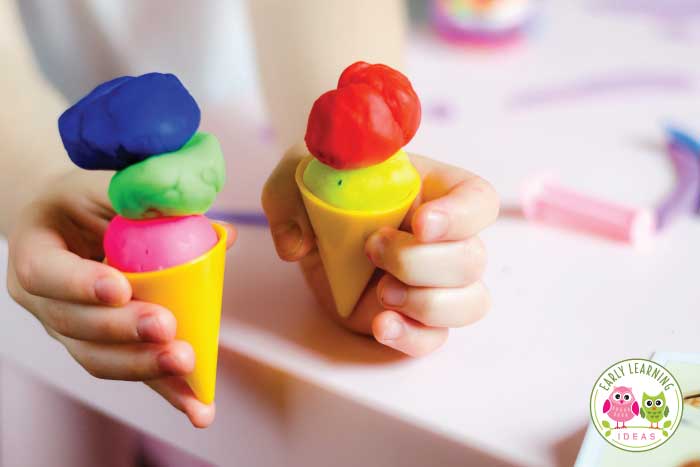 Playdough provides an opportunity for open-ended creation. Kids can make whatever they want from the squishy stuff. They can experiment with shape and texture. They can pull it apart and make mold it together. Playdough can easily be part of dramatic play as kids create birthday cakes, hamburgers, or bananas.
Math
Kids can learn about measurement, sorting, counting, shapes, and size comparison. Let kids help you mix up a batch of playdough and they can measure the ingredients for you.
Language & Literacy
What a great social activity! When a group of kids plays together with playdough the opportunities to work on problem-solving, collaboration, and self-control are plentiful. There are also lots of opportunities to build vocabulary as talk with each other and describe what they are making or doing.
Kids can create stories as they work in the playdough center. They can also re-tell stories from books that were read to them or home or in the classroom. Playdough can also be formed into letters, names, or words.
Science
At the playdough table, kids will investigate, experiment, and make observations about what they see and feel. Provide kids with additional materials and mix-ins and give them the freedom to experiment with the material
How Do I Make Playdough?
Of course, you can buy Playdoh at the store, but it is pretty easy and inexpensive to make a DIY batch on your own. Plus, when you make it yourself you can customize your batch with different colors, smells, and textures.
My Quick Playdough
I love making my quick playdough recipe. This is the recipe that my mom used to make when I was a kid. I don't claim that this is a no-cook recipe. Let me tell you a secret about all the no-cook recipes that I see out there…they involve boiling water….which is cooking. I think that there is less risk for burns when I mix a batch up in a pan on the cooktop instead of having to pour boiling water from one container to another. What do you think?
Color Tips and Tricks
Making certain colors can be a little tricky. Here are some articles that will help you out:
Additional Playdough Recipes
Playdough Mix-ins
Playing with playdough is a great sensory experience for kids. Squeezing and squishing the material is a great calming activity. Kids use their sense of touch to feel textures and movement as they shape, mold, and create. You can add materials to your dough to change the texture, color, and even smell of your playdough to create new and exciting sensory experiences.
Here are some ideas:
Toys and Materials for the Playdough Center
You don't have to spend a lot of money to get great tools for your playdough center. Here are some ideas for tools that you can find in your kitchen, craft supply closet, toy box, garage, recycling bin, and nature. If you want to purchase some great playdough tools, I have some recommendations for you as well.
Playdough Tools From the Pantry or Kitchen
pizza cutters
plastic knives
forks
straws
silicone cupcake liners
small bowls or ramekins
measuring cups and spoons
cupcake pans
pie pans
stainer or colander
garlic press
melon baller
meat tenderizer (tool)
cookie cutters
rolling pins
potato smasher
spatulas
ice cube trays
Playdough Tools From the Workshop
putty knives
washer
nuts,
bolts
screwdrivers and other tools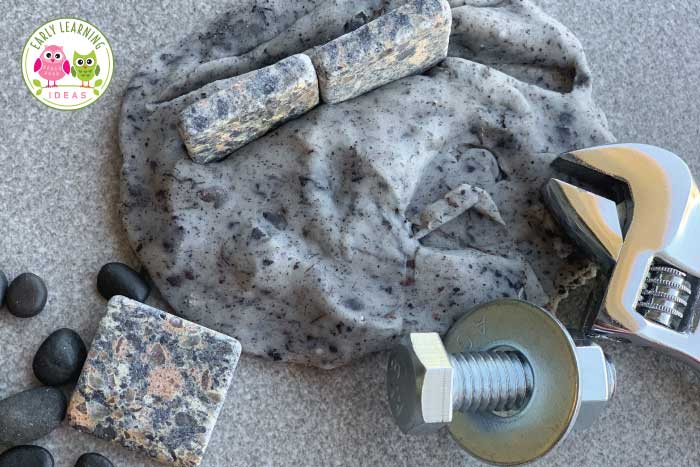 .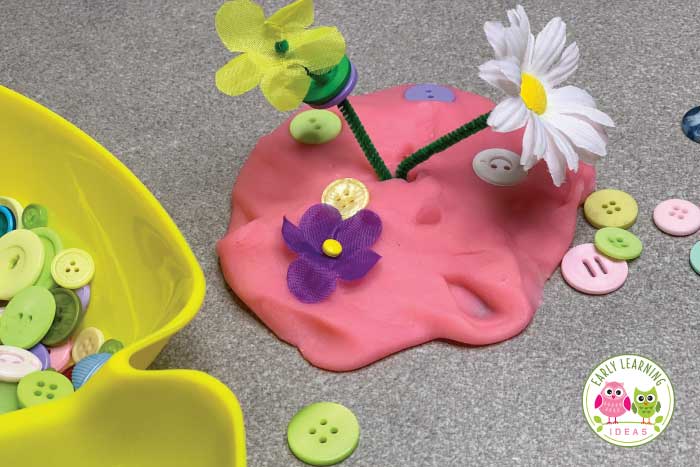 Playdough Tools From the Art Supply Closet
buttons
marbles
beads
popsicle sticks and toothpicks
googly eyes
pipe cleaners
silk flowers and leaves
scissors
dowels
Playdough Tools From The Toy Box
small toy figures and animals
little erasers
legos
matchbox cars, trucks and construction vehicles
Mr. Potato Head parts
Small doll accessories
plastic food, kitchen items
Playdough Tools From the Recycling Bin
empty spools
small containers (yogurt, applesauce, take-out containers, etc)
egg cartons
foam peanuts
plastic cutlery
Create an Invitation to Play
Provide your kids with a playdough invitation to play to encourage them to explore different materials for open-ended creative opportunities. You can easily create playdough trays or playdough kits for every theme, holiday, or season
Playdough Kits
In the age of COVID kids often cannot share supplies with others. It's easy to make individual playdough kits with small divided containers in a pencil box.
Playdough Trays
When kids can share supplies, you can easily assemble a playdough tray by placing a variety of materials and tools, along with playdough in a divided tray. Your kids will soon be exploring and using their imagination to make magnificent creations.
You can also add number cards or alphabet materials to work on math and literacy concepts in a playful and developmentally appropriate way. Here are some ideas for some thematic invitations to play.
Playdough Mats
There are many ways to incorporate literacy and math learning into your playdough center. You can use number cards, alphabet stamps or cutters, or plastic letters. Playdough mats are also a wonderful addition to your playdough activities. Here are some printable playdough mats that can be used.
Here are some additional playdough mats:
---
Playdough Resources from the Store
Use the following activities in my store with playdough. Click on the images below to check out the hands-on learning activities from Early Learning Ideas.