Children learn through dramatic play.
What kind of person did you pretend to be when you were a kid? An Olympic athlete, a veterinarian… a rockstar? I LOVED to pretend when I was little. What I didn't realize at the time was that in addition to pretending….I was also learning.
This post contains some Amazon affiliate links. There will be no additional cost to you when you make a purchase from a link, but a small portion of your purchase will be used towards maintaining this website…and for that, I thank you.
What is Dramatic Play
Dramatic play is often called pretend play or imaginative play. In dramatic play, kids act out different roles.
The roles can be real-life scenarios, like when my son would don a tie and pretend that he was going to the office like his Dad. The roles can also be fantasy, like when the kids pretend that the play structure on the playground is a pirate ship.
---
Benefits of Imaginative Play
When many people see kids engaging in dramatic play, they think that the kids are just playing. In fact, a lot of learning is actually going. Learning through play is engaging, meaningful, and essential to young kids.
Here are just some examples of the learning that goes on during dramatic play.
Social Studies
Dramatic play lets kids learn about families and communities. They learn how the world works. Kids can learn about different areas of a grocery store, different people who work at a doctor's office or how an animal shelter works.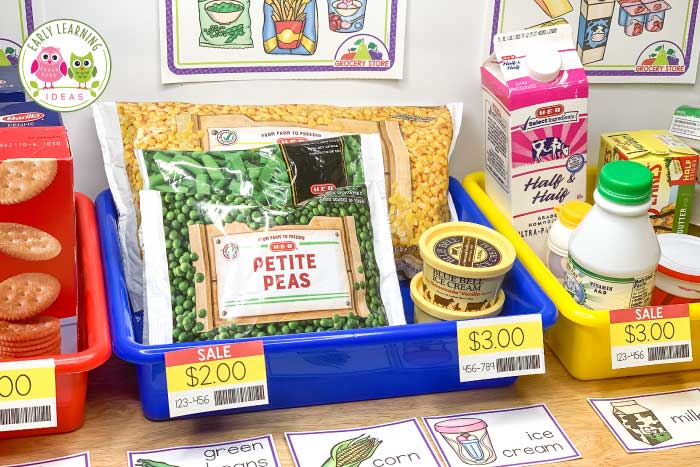 Social Skills
Kids learn how to work cooperatively to solve problems. Kids can learn empathy as they put themselves in other's shoes.
Language Skills
Kids learn new vocabulary and learn how to communicate their wants, needs, and even their desire for a breakfast taco.
Literacy Skills
Children experiment with a wide variety of texts like grocery lists, maps, and taco menus, pre-flight checklists. They learn that reading and writing are part of everyday life and that different tasks require different texts. Sometimes kids act out a story from a familiar book. This actually increases their reading comprehension.
Fine Motor Skills
Writing practice often takes place when kids pretend. They might make a grocery list, make a sign for a restaurant, address an envelope, etc. Kids can also work on fine motor skills as they fill prescriptions, feed animals, or fill egg cartons.
Math Skills
As kids set the table in a restaurant, count out the change in a gift shop, or weigh animals in an animal shelter they will practice early math skills. There are all kinds of opportunities to work on math skills while pretending.
Science Skills
Kids are a natural scientist and through dramatic play, your kids can explore science as they pretend to be astronauts, entomologists, geologists, lab technicians, or weather reporters.
---
How to Set up a Dramatic Play Area
Your dramatic play area can be as big or small as you like and you can set the area up on any budget. The basics for a kitchen or home dramatic play center include a table and chairs, a sink, a stove, and a refrigerator.
Additional pieces of furniture can serve different functions to help you transform your center for a new theme.
A puppet theatre can be used as a reception desk in a doctor's office, but as a check out lane in a grocery store. A table can serve as a restaurant table, kitchen table, or a vet's exam table in an animal shelter. Shelves can be switched out with different props for each theme.
If your budget is tight or if you are super creative, you can create furniture for your dramatic play area from cardboard boxes, old furniture, and maybe some duct tape.
I have compiled a bunch of great DIY ideas together in a Pinterest Board for you.
---
Props
In the dramatic play center, the props are like the icing on the cake.
Props can really engage the kids and help them get into their pretend roles, so be sure to give some thoughts on which props to add. You can use a combination of props made for pretend play, real-life objects, and creative substitutes.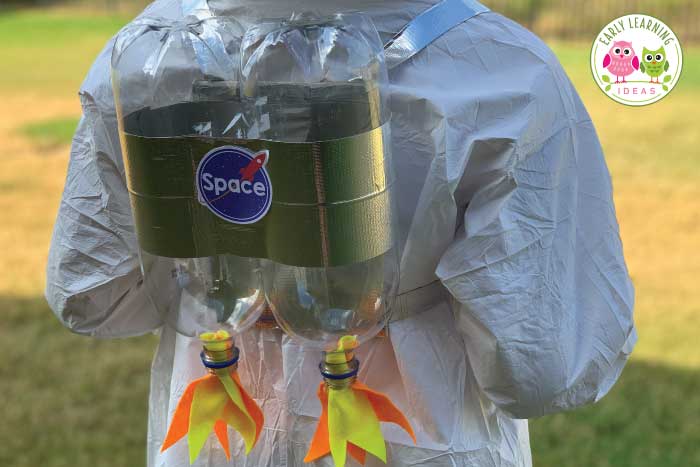 Have fun gathering and making props.
Find keys, non-working cell phones, and laptops, baby dolls of different races, magazines, grocery carts…the ideas are endless. I love visiting thrift shops and garage sales to find props at bargain prices. You will also find ideas for different themes as you scroll down through the article.
---
Dress-up Clothes
When you are adding props, don't forget about adding dress-up clothes.
Again, visit thrift stores and garage sales, watch for sales on Halloween costumes, and get hand-me-downs for friends and families.
Something magical happens when kids dress up in costumes and you don't want your kids to miss out on that magic.
---
A Print-Rich Dramatic Play Center
Dramatic play teaches kids that there are many different types of text. There are many ways to easily add text throughout your dramatic play center.
Label everything that you can. Labels provide kids with opportunities to look at words, look at the sounds in words, and expand their vocabulary. Do you need some ideas? Here are some text ideas that you can add for popular themed play areas.
Restaurants – menus, signs for daily specials, order forms, checks
Doctor's Office – sign-in sheets, signs for exam rooms and waiting areas, exam checklists
Police Station -maps, parking tickets,……
Post Office – price signs, maps, postcards, stamps, mailing labels, envelopes, stationary
Home – grocery list, to do list, books, magazines, computers, electronic devices
Airport – maps, flight schedules, computers, magazines, boarding passes
Grocery Store – ads, coupons, price tags, shopping lists
You can also add fiction or non-fiction books to your center.
---
Pretend Theme Ideas
Want to create some excitement in your classroom? Try switching things out. Here are a bunch of thematic ideas to help you transform your dramatic play center.
---
Additional Ideas
I hope that this helped you understand the importance of dramatic play for young children…and hopefully, it helped you come up with some new ideas for the dramatic play area in your classroom.
---
Dramatic Play Printables
Pick up these dramatic play printables from my store. Click on the images below to check them out and purchase them today.