How to Set Up a Geology Lab Dramatic Play Center
Create a geology lab dramatic play center. Combine science, math, and literacy in a developmentally appropriate manner with these fun ideas for your preschool or pre-k classroom.
---
After receiving so much great feedback from teachers about my entomology lab dramatic play area, I decided to create another science-based dramatic play area. This time, kids can study rocks and minerals in a geology lab dramatic play center.
Let me give you some ideas for setting up a geology lab in your classroom.
Dress Up Clothing Ideas
Kids always enjoy dressing up when they engage in pretend play. Here are some dress-up items that help your little geologist get into their role.
safari hats, sun hats, or hard hats
safety glasses or goggles
safari shirts, safari vests, or lab coats
backpacks or toolboxes
headlamps
work gloves
Finding Rocks for the Dramatic Play Center
If you are going to set up a geology lab, you are going to need some rocks. Don't stress out about finding them. It's a good idea to find a variety of sizes, textures, but they don't have to be fancy…unless you want to get fancy.
Sometimes you can find cool rocks in unexpected places. My family took a trip to British Columbia this year and we even found some rock stores. Rocks of ALL kinds at ALL price points were available.
Well, I don't expect you all to take a trip to British Columbia (although it is absolutely BEAUTIFUL!). So, here are some ideas to help you find a variety of rocks:
Take a walk – Check out your yard, the playground, or a park. Look by roads, in landscaping, and by ponds/steams/rivers.
Home Improvement Supplies – Use leftover granite, marble, or travertine tile from a home improvement project. Visit the Re-Store
Night at the Museum – Pick up some inexpensive rocks, minerals, fossils, or geodes in a museum gift shop.
Get Crafty – Find rock and pebble vase fillers at craft or other stores.
Visit Construction Sites – Get scrap stone from home construction or landscape project sites. I live in a new neighborhood where houses are still being built. I find lots of goodies in the construction dumpsters.
Pet Supplies – Get decorative gravel and rocks at aquarium or pet stores
Jewelry Pieces and Parts – Use beads made of stone.
Plastic Jewels – You can also use plastic gems, crystals, or rock-like vase fillers.
Rock Collection Kit
You can make a rock collection kit by filling a toolbox, a bag, or a small backpack with a few supplies. Here are some ideas:
magnifying glasses
goggles or safety glasses
toy hammers
popsicle sticks
pencils
geology notebooks or blank books
Kids can use these kits to "go searching" for rocks. Designate a place for them to search such as in sensory tables, hidden around the classroom, or even in a blob of playdough.
Assemble a Rock Collection
Every good geologist has a rock collection. You can assemble some collections and have them ready for kids to examine, or you can let them create their own collections. Remember, the rocks don't have to be fancy. Provide some magnifying glasses and some desk lamps so that kids can take a closer look.
There are many opportunities for math practice as kids assemble, play with, and examine rock collections. They can work on one-to-one correspondence, counting, and sorting activities.
You can learn more about learning activities with rocks and get a free printable for a rock collection container in this article.
If you do have some fancy rocks, provide a light table for a cool sensory experience. Here are some agate slices that I added to a light table. How cool is that? You can find agate slices at craft stores, museum gift shops, or even in a jewelry box.
Sorting Rocks
Speaking of sorting, you can make that part of your dramatic play area. Gather a variety of rocks. Ask kids to tell you what they notice about the rocks as they look through them. Provide some sorting mats, muffin tins, or more than one container. Then, let them sort the rocks. You may be surprised by how they choose to sort their selection.
They may sort by size, texture, or color. But there are so many other ways that rocks can be sorted too. Are they dull or do they sparkle? Are they flat or round? Do they just feel good in my hand?
Ask kids to tell you how they sorted their rocks. Challenge them to find different ways to sort the selection.
Cleaning Rocks
Your little scientists can clean rocks in their lab. Use a sensory table or tub filled with water as a cleaning station. You can also provide a spray bottle filled with water for the task. Squirting the water is not only fun, but it is a great fine motor strengthening exercise.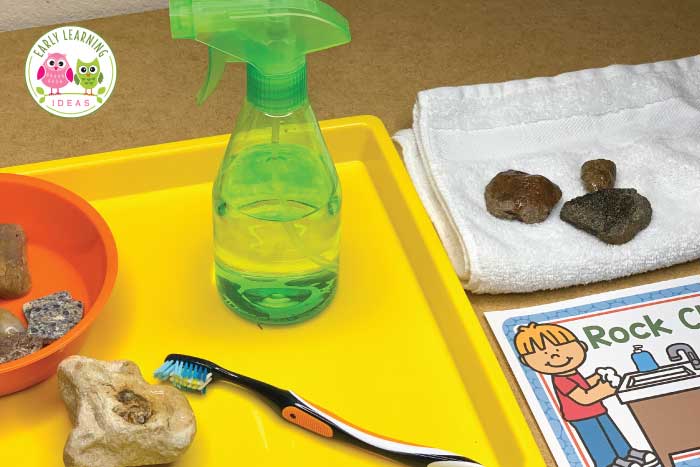 Kids can use toothbrushes or small cleaning brushes to scrub the rocks and stones. Then, they can use a towel to dry them. Do your kids notice a change in the rocks when they are wet?
Weighing Rocks
Provide a bucket scale and a variety of rocks so that kids can compare their weight. Let them make predictions. Select two rocks and ask them to predict which one will be heavier. They can weigh the rocks to test their hypothesis.
As they become experts at weighing the rocks, they will even be able to put them in order from lightest to heaviest.
Measuring Rocks
Kids can compare a selection of rocks by measuring their length, width, and even circumference. They can use tape measures, measuring strips, rulers, or counting cubes to measure.
Measure with a string. Cut a piece of string just long enough so that it wraps around a rock. What happens when you wrap the same string around a smaller rock….or a larger rock?
Again, as they measure, kids can place the rocks in order from smallest to largest.
Rock Classification
Geologists know how to classify rocks. Your little scientist can practice their classification skills with a simple classification form. Kids can also write details or make sketches of their specimens on scrap paper or in a blank book.
Gem Mining
Your kids can also work on gemology skills as they mine for gems. Set up a gem mining area by adding sand or fine gravel to a sensory table or large bin. Add some plastic gems, baubles, or sequins. Provide some sieves (colanders or strainers) and brushes so that your kids can search through the bin to discover the gems.
Geology Research Libray
Every geology lab should have some research materials. Gather some books about rocks, minerals, and gems to create a research library.
You can also add a seating area, a desk, a non-working laptop, and some blank books to the area.
Fossil Study
Do you have some fossils to share with your kids? You can set up a fossil study area. Add some magnifying glasses so that they can see the fossil details more clearly.
Waiting List for the Dramatic Play Center
Your kids are going to be so excited when you set up this lab. To prevent too many kids from "working" in the lab, you might have to create a waiting list like this employee schedule. This provides some extra name practice too.
Purchase the Geology Lab Dramatic Play Printables
Well, I hope that these ideas gave you some inspiration for studying rocks in your classroom. The printables pictured in this resource are available in my store. They include the items pictured, plus banners, posters, a geologist book, and more. Click on the image below to purchase them today.
---