How to Make an Exciting Doctor Dramatic Play Area
Create a doctor dramatic play area for your preschoolers. Kids can learn science, literacy, and math concepts in a fun way as they play and pretend.
---
Kids love to explore the world around them through pretend play. Pretending to be a medical profession is a favorite of many kids.
Take your kids doctor role playing to the next level.
Here are some great ideas to help you transform your dramatic play area into a doctor's office, a play hospital, or even a teddy bear hospital. I'll also show you how to add elements of science, math, literacy, and fine motor activities to your dramatic play center.
You can find the printables featured in this post in my store. I also added several links at the bottom of this post. Use the links and ideas to help you shop for props to add to your center. There will be no additional cost to you when you make a purchase from a link, but a small portion of your purchase will be used towards maintaining this website.
Dress Up Clothing
A few props and dress-up clothes will help you enhance your pretend play area.
Here are a few things that you can use for dress-up clothes:
white lab coats or white dress shirts
medical scrubs, hats, masks, shoe covers
hospital gowns, blankets, etc.
role play name tags for nurses, doctors, paramedics, lab technicians, radiologists, pharmacists, etc.
Additional Props
Use your imagination and dig through your prop box to find additional props. Here are some ideas to get you going:
stethoscopes, syringes, thermometers
doll beds, blankets, baby dolls, or stuffed animals
cotton balls, q-tips, tongue depressors/craft sticks, strips of cloth, bandages
sponges, towels, washcloths
tweezers, small plastic containers
file folders, clipboards, notebooks
bathroom scales, tape measure, growth chart
Setting Up the Medical Dramatic Play Area
You can make your dramatic play center as simple or as complex as you like.
Decor
The printable set includes printable banners, vocabulary cards for labeling items, and signs for different areas in a hospital or clinic. Here are ideas for some different areas that you can create.
Patient Check-in
You can create a reception desk where patients can check-in, check out, pay their bill, or make an appointment. Kids will have opportunities to practice writing names when they add their names to the sign-in sheet or schedule an appointment.
Add a keyboard or an old laptop or device so that kids can check schedules on their computers. My dramatic play set includes printables so that you can create pretend laptops and heart monitors.
To assemble the laptop, I slipped the printables into the cover of a three-ring binder. Then I folded the binder backward so that the rings faced out. Finally, I propped the "screen" up. I use a roll of duct tape, a cardboard box, or whatever I happen to have on hand. Tada…..instant laptop…..or heart monitor.
Waiting Room
Every medical office has a waiting room. You can create one with just a few chairs. Add some books so that patients can read as they wait for their appointment to start.
Measurement Area
We usually get weighed and measured before going to an exam room. Set up a measurement area with a bathroom scale and a growth chart so nurses can check the growth of their patients.
Exam Room
Add a cot and/or a couple of chairs to part of your play area to create an exam room or hospital room. Medical records or patient forms, prescription pads, hospital id bracelets, and a computer are great additions to a desk area. Create a print-rich environment by labeling everything with vocabulary cards.
Doctors and nurses can use a toy stethoscope, blood pressure cuff, otoscope, and thermometer to give patients a thorough medical exam. Kids don't like getting shots, but I always crack up by how much they love GIVING shots. Be sure to include some syringes.
They can clean wounds with cotton balls, sponges, etc. Strips of sheets can serve as bandages so that staff can wrap wounds and injuries.
Radiology Lab
Kids love looking at x-rays. You can use real x-ray images or printed images on a light table, or you can just hang some on a wall. Old cameras….or just a plain box can serve as a x-ray machine.
Pharmacy
When I visit a doctor, I often leave with a prescription. Your little doctors can write prescriptions too. Create a pharmacy within your dramatic play area where pharmacists can fill those prescriptions.
Use little spice bottles or travel bottles to house the medicine. Small pom-poms, beads, or beans can serve as the medication. Provide tweezers so that kids can sort and count the pills, and then place them in the bottles.
This is a fun math and fine motor activity. Your kids will be having so much fun that they won't even realize they are learning.
Medical Laboratory
My favorite part of this dramatic play area is the laboratory. It's a great place to test specimens and samples or to create a cure for the latest virus. You can set up a super simple laboratory by providing a few sensory bottles and magnifying glass.
You can also set up a lab complete with test tubes and a microscope if you have them. If you don't….. improvise by using a bunch of clear plastic containers, bottle caps and, eye droppers. Don't forget to add a notebook so that scientists can make notes.
Fill up containers or beakers with colored water and kids can experiment with color mixing.
What happens when the colors are mixed?
Here is another fun experiment. Add colored water to some containers/test tubes and colored vinegar to others. Fill a large bottle cap or shallow container with baking soda. Kids can then use a dropper to add a drop of liquid from each test tube to the baking soda.
Purchase the Printables
I know your kids will have so much fun as they pretend to be doctors, nurses, pharmacists, and lab technicians. Start setting up your doctor dramatic play area today. Click on the image below to purchase the Medical Dramatic Play Printables.
Which liquid creates a reaction?
Additional Learning Opportunities
My printable set also includes a sequencing activity. Kids can learn how to wash their hands properly as they place the cards in the correct order.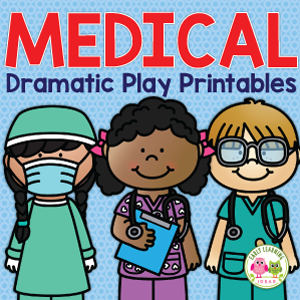 ---
Here are some items that might help you with a weather station dramatic play set up. If you decide to purchase any of the items below, Amazon will pay me a small commission for it. This doesn't cost you anything additional, but the commission helps me fund this website.