How to Easily Make a Winter Playdough Tray
It's easy to put together a winter playdough tray that your kids will love. Check out all of these fun material ideas.
Do you want to put together a fun winter-themed playdough activity, but don't know what to include. Here are a bunch of ideas to create an engaging winter and snow themed fine motor and learning activity.
Snow=Delight
When I was a kid, I loved playing in the snow. I loved sledding, building snowmen, and even making and eating snow cookies. I recently went to my husband's office Christmas party in downtown Austin, Texas. As we were all enjoying our delicious meals, everyone stopped and turned toward the windows to see snow falling outside. It wasn't real snow, but some kind of foamy concoction that came from a machine on the roof of the theatre next door.
The snow wasn't real but, we were still DELIGHTED to see it.
You see, snow does that. Whether it's real or fake, it seems to delight everyone….until one has to drive in it.
Create a Delightful Invitation to Play
You might not be able to provide real snow for the kids in your classroom, but here is a fun winter playdough tray that will give them plenty of opportunities to play with the magical white stuff.
If your kids can't share supplies, don't worry. You can use the ideas below to create individual playdough kits for your kids.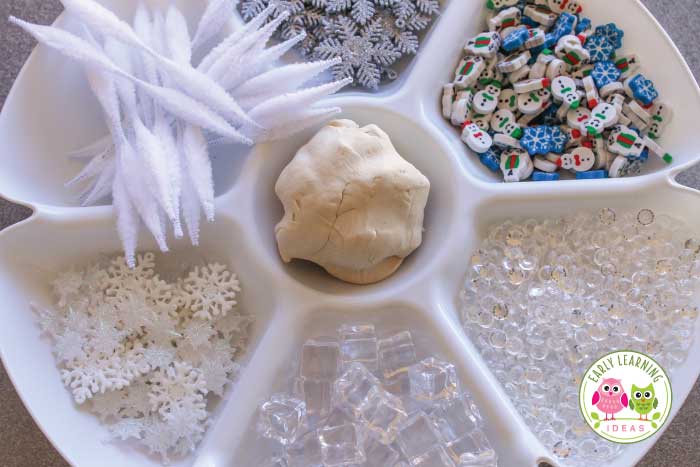 If you need a playdough recipe, I recommend my favorite quick playdough recipe. To make the dough a bright white color, I added several tablespoons of white tempera paint. You can also make your white playdough more exciting by mixing in some fun materials. Learn how in this post about white playdough.
Wintery Material Ideas
Now grab a divided tray and start adding winter-themed items. Here are some of the materials that I used:
small plastic snowflake ornaments (grab these at after Christmas sales)
sticks or twigs
felt snowmen hats (I found these with Christmas craft supplies)
plastic ice-cubes
snowman or snowflake erasers
white or silver pipe cleaners
buttons
plastic gems
snow covered branches
Don't forget to throw in some circle cookie cutters and rolling pins too.
More Wintery Material Ideas
If you forgot to pick up snowmen hats and snowflake ornaments at Christmas time, don't worry. Here are some additional supplies that you can add to create a perfect winter fine motor activity.
beads
styrofoam peanuts
foam balls
winter-colored marbles
arctic animals
toothpicks
cotton swabs
craft sticks
You can also add number cards, counting mats, or alphabet playdough mats to work on math and literacy learning.
Winter Playdough Delight
Your kids can build snowmen, snowflakes, a winter theme, or a wintery sculpture. They will enjoy the open-ended creativity that a variety of materials in the tray will provide. I hope that you enjoy watching their delight as they play.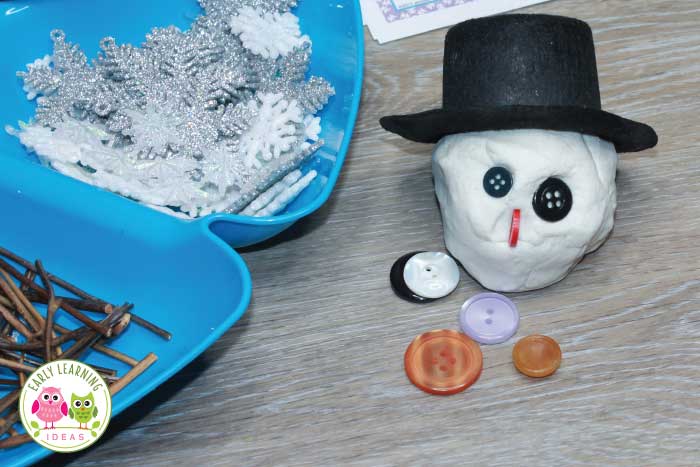 Here are some playdough mats from my store that will complement your winter playdough tray. Click on the images below to check them out.
---
Below are some items from Amazon that can be used for the activities mentioned in this article. The links below are affiliate links. If you happen to purchase something from a link, there will be no additional cost to you, but a small portion of your purchase will be used towards the cost of maintaining this website.