How To Make Playdough Insects With a Build a Bug Playdough Tray
Are you looking for some fun & exciting insect activities for your kids? Your kids will have a blast making playdough insects!
Let me show you how to make a build-a-bug playdough tray today so your kids can start making creative, creepy, crawly creatures.
I'm not a huge fan of most bugs. My family recently moved into a newly built house in the hill country outside of Austin, Texas. The creatures that inhabited the hills before we moved in don't understand why we don't want to share our shelter with them. Let's just say that this Ohio girl now knows what scorpions look like…..YIKES!
Well, here are some fun bugs that I can handle. Here are some ideas to make playdough insects.
If you don't like making community playdough trays, you can use the ideas below to create individual playdough kits for your kids.
How to Make an Insect and Bug Theme Playdough Tray
It's pretty easy to set up a bug and insect themed invitation to play. Let me give you some ideas of supplies to add to your tray.
What Kind of Playdough is Good for an Insect Theme Invitation To Play?
Well, if you want to make playdough insects and bugs, you are going to need playdough. Any color will work well for this activity. I made a batch of my quick playdough recipe and used green food coloring to make a great buggy color. Brown playdough or dirty playdough would be great to use as well.
Where to Find Supplies for Playdough Insects?
The fun part of creating an invitation to play is finding fun materials to add to a divided plastic tray. You can find supplies in your craft or supply closet, in nature, or even in the trash or recycling bin. This time, I found some fun materials for my insect theme tray in the aisles of my local Home Depot store.
The man who helped me in the electrical department probably thought I was a little crazy when I purchased 3-foot lengths of wire. He started asking me all kinds of technical questions…like, did I want single-strand or multi-strand wire?
"I just want bendy wire in pretty colors….3 feet of each, please."
So, for only a few dollars, I got some nylon-wrapped wire. I borrowed a tool from my husband's workshop and cut them into small lengths. Kids can use them for all kinds of bug parts like antennae, legs, or whatever their creative minds come up with.
While I was at Home Depot, I also picked up some more washers. (They also worked well for a construction playdough tray)
Additional Materials for Your Bug Theme Playdough Tray
I found some fun brads at the craft store. I think it's fun to poke them into the playdoh to make spots. Check out garage sales, recycled art supply stores, or your girlfriend's craft stash for some fun supplies.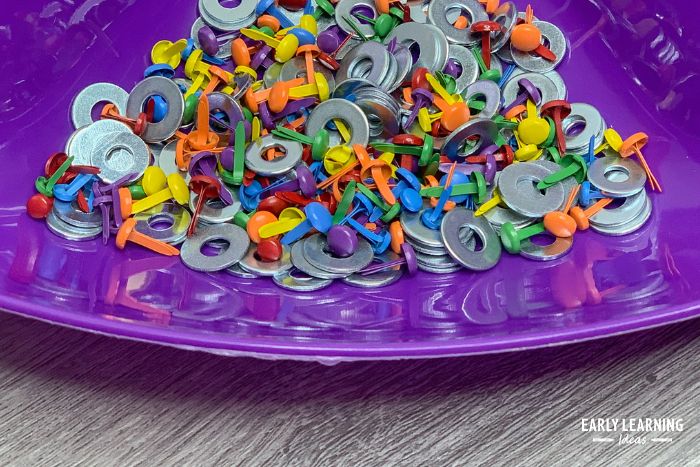 In addition to the wire, brads, and washers, we added the following materials to create a bug-themed playdough tray:
plastic bugs (there is even a scorpion in there)
tree cookies or wedges
strips of tulle netting
copper wire (found in the jewelry making supplies)
Here are some ideas for additional materials:
twigs
leaves
gravel
bug containers
magnifying glasses
buttons
pom-poms
pipe cleaners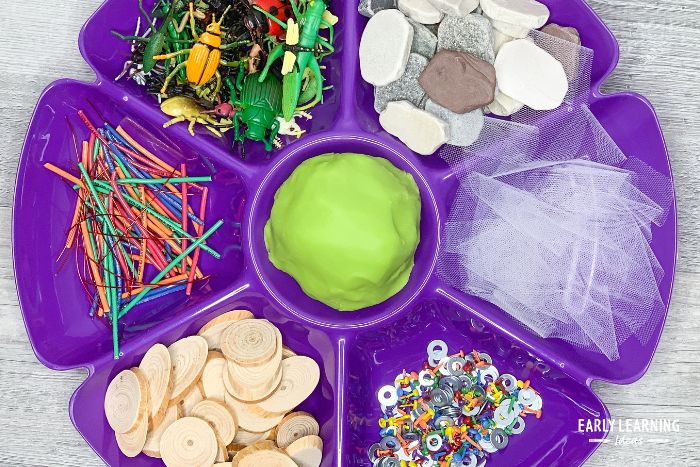 When you combine various materials, your kids can have a blast getting creative. They can not only build a bug with the play dough but also build bug habitats or homes.
I really liked the addition of the tulle. The dough did stick in the netting, but it was still a fun material to add to the mix.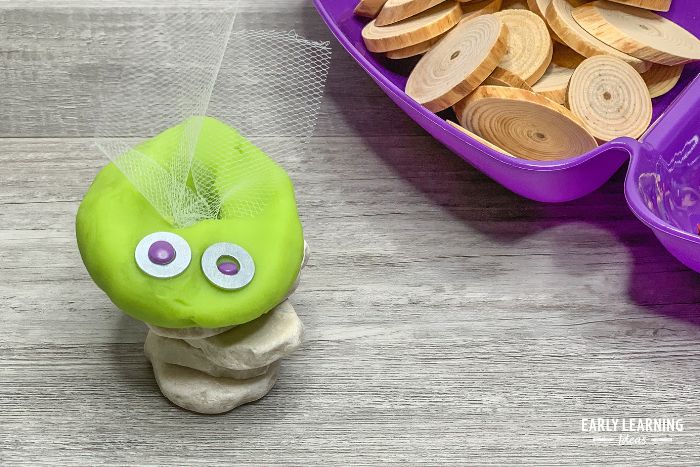 Create Playful Learning Opportunities
Kids are always learning when they play with playdough. You can encourage additional math and literacy learning opportunities by providing number cards, letter rocks, or insect playdough mats.
I hope you and your kids enjoy this bug-themed playdough invitation to play. Play bugs are so much more fun than real ones. Don't you think?
Additional Bug Themed Resources in the Store
Are you looking for additional bug-themed activities for your kids? Check out the following resources in my store.
Purchase The Insect Themed Activities On TPT
Do you prefer to shop at Teachers Pay Teachers? You can also purchase the insect theme printables in my TPT Store.