25 Cutting Activities for Preschoolers that Promote Fine Motor Skills Development
If you're looking for cutting activities for preschoolers, you've come to the right place! Cutting is an important fine motor skill for young learners. These 25 cutting activities from Early Learning Ideas and beyond are perfect for promoting scissor skills development in young children. We'll also provide tips on how to make cutting activities more fun and engaging.
Whether your child is just starting with cutting or is already a pro, there's something here for everyone!
How Do You Make Cutting Fun?
Kids need to practice using scissors to develop the muscles and coordination required for cutting. But that doesn't mean it has to be boring! Here are some tips for making cutting activities more fun:
Variety of Activities – Make sure to mix things up and provide a variety of cutting activities. This will help keep your child's attention and prevent boredom. I think that this list will help you out with that problem.
Use Different Materials – Try cutting different materials such as paper, construction paper, felt, or even fruit!
Meaningful Cutting Activities – Choose cutting activities that are meaningful and purposeful. Rather than just cutting random scrap paper (although that is great sometimes), kids get a sense of accomplishment when they create SOMETHING….like a book, a snowflake, or a flower.
Developmentally Appropriate – Select cutting activities that are not too difficult for your kids. You can often find easily differentiated activities, or you can help them cut parts of the activity in the beginning.
Make It a Game – Turn cutting into a game by challenging your child to see how many pieces they can cut in a certain amount of time.
With these tips in mind, let's take a look at some cutting activities for preschoolers!
Cutting Activities for Preschoolers
Cutting and Pasting Activities
One of the best ways to practice using scissors is with cutting and pasting activities. Not only do kids get to practice cutting, but they also get to work on their fine motor skills by gluing the pieces together. These cut and paste activities provide straight line practice and can be easily differentiated. Here are some of our favorite cutting and pasting activities:
Cutting and Pasting with Paper Tearing Sheets – Paper tearing is a great way to develop the hand strength necessary to use scissors. I also like using these printable paper tearing activity sheets with snipped strips of paper instead of torn paper.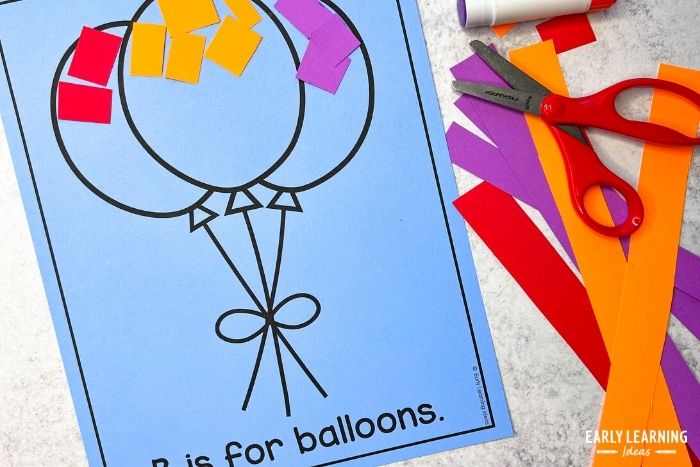 Cut & Paste Printables – These cut and paste activity printables are easy to differentiate and are perfect for practicing straight line cuts.
Apple Cut & Paste Printable by Live Well Play Together
Cut and Paste Heart Worksheets by Planes & Balloons
Preschool Cut & Paste Printables by Activity Mom
Cutting Practice Printables
Ocean Themed Cutting Practice Printable – The free printable is great for scissor skills development. The fine motor sampler set from Early Learning Ideas includes snipping strips, snip sheets, and a variety a paths for your kids to cut.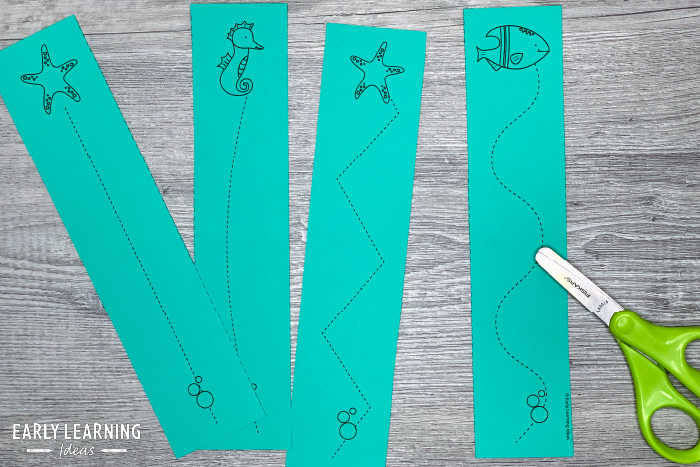 Squirrel Cutting Practice Worksheets – Fall is the perfect time to try out these squirrel cutting worksheets. They will give your kids an opportunity to practice their scissor skills on a variety of paths from straight lines to more complex curves and zig-zags.
Cutting and Coloring Pack from Tot Schooling
Cutting Worksheets Pack from Planes and Balloons
Fold and Cut Activities – Fold and cut activities are perfect for kids who need a little extra challenge. They require kids to use both cut and fold.
Printable Fine Motor Crafts. There are many benefits of crafts for preschoolers. These printable fine motor crafts were specifically designed to help your kids work on fine motor skills. They will have a chance to practice snipping and cutting on a variety of lines and even hole punching and tracing lines as they assemble these cute craft activities.
Scissor Practice Cutting Books – These cutting books from are great for kids who need a little extra practice.
Flower Cutting Printable – If you do a little prep for your kids, these flower cutting printables will give beginners some simple straight-line practice. Your kids with more advanced scissor skills can cut out the circles themselves.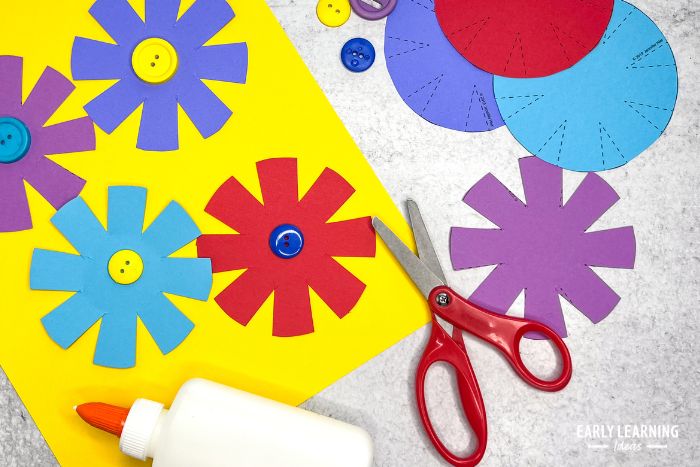 Snowflake Cutting Templates – Make your own, or get the printables. Snowflake templates make cutting paper snowflakes a breeze ….. and a BLAST!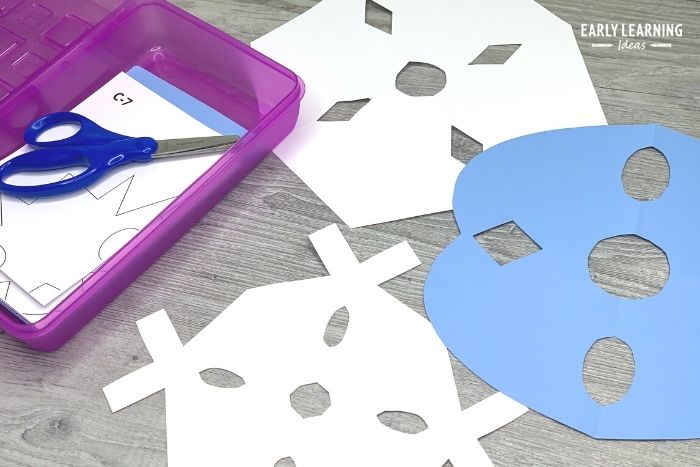 Additional Cutting Activity Ideas
Scissor Skills Snakes Here is another paper towel roll craft by Crafts on Sea
Cutting Material Ideas – You may already use some of these cutting practice material ideas, but I bet some of them will surprise you.
Paper Plate Lion This paper plate craft from Kids Activity Blog is super easy to differentiate. Increase the difficultly by making more snips in the mane.
Make a Sun Activity Transform a simple yellow circle into a glorious sun by A Dab of Glue Will Do
Monster Haircut Activity by Busy Hands and Minds. Who doesn't love making monsters.
Snipping Sammy Scissors Here is a fun activity with a paper towel roll by Laly Mom
Paper Bag Haircuts – You can use inexpensive brown paper bags for this fun project by Crafts on Sea.
Printable Cutting Practice from the Store
Are you ready to try some cutting activities with your kids. Check out these fun printables in the store.