How to Use Simple Plastic Eggs to Make Learning Activities for Preschoolers
No, they are not just for Easter Baskets….there are many ways you can use plastic eggs in learning activities for preschoolers. Ideas include music and movement, counting, sorting, sensory, and STEM.
If you are like me, you have a bunch of plastic eggs hidden in a closet. Guess what? They can be used for much than just filling Easter baskets. You can use plastic eggs in many learning activities for preschoolers. Here are 10+ fun learning activities for you and your kids.
Color Matching eggs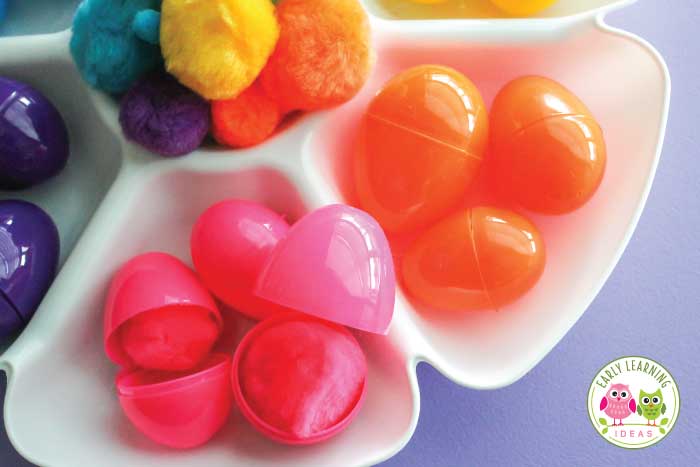 Use colored pom-poms for an easy matching activity. Kids can place pom-poms into the coordinating colored eggs. If you have different sizes of pom-poms and eggs, kids can also sort by size.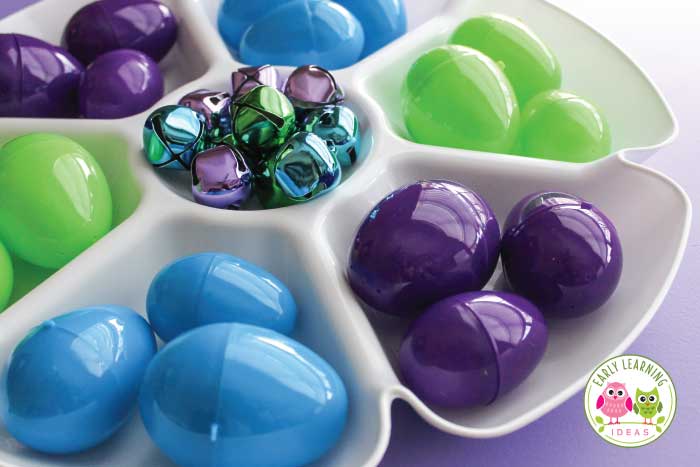 In addition to pom-poms, you can use cut straws, pieces of fabric, cut paper shapes, foam shapes, or even colorful jingle bells for a color matching activity. You can also challenge kids to walk around the room to find items that match the eggs.
featured product
Looking for Fun Ways to Help Your Kids Build Fine Motor Skills?
These printable fine motor crafts will help your kids practice scissor skills and build hand strength in a FUN way.
Egg Shakers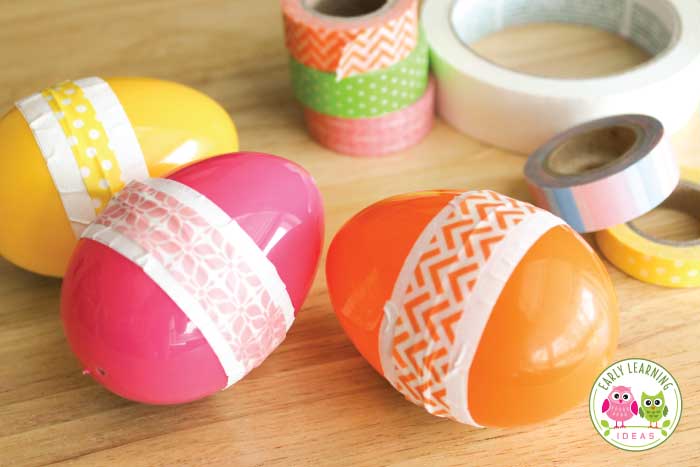 Egg shakers are an easy and fun egg craft to make with preschoolers. Plus, they can be used in many ways…..music and movement, rhythm activities, counting, and even breaking words into syllables. Want directions for making the eggs? You can get them HERE.
Egg Counting Activities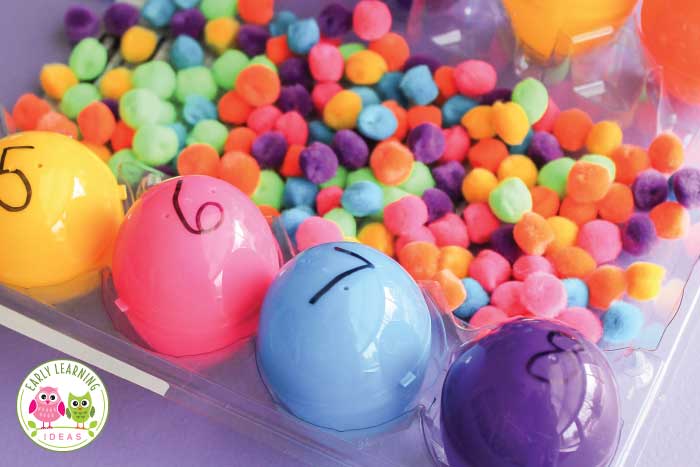 Write numbers or draw dot patterns on the eggs. Kids can count small pom-poms or erasers as they place the correct quantity inside each egg. Kids can also count eggs as they place them in baskets or egg cartons.
Egg Size Sorting
You can find a wide variety of plastic eggs in stores during the spring. While you are shopping, pick up different-sized eggs. They can be sorted by both size and color…and can be nested together.
Egg Alphabet Activity
Place magnetic letters or small letter cards inside eggs. Kids can identify letters and/or say the sound associated with each letter as they open the eggs.
Eggs in the Sensory Bin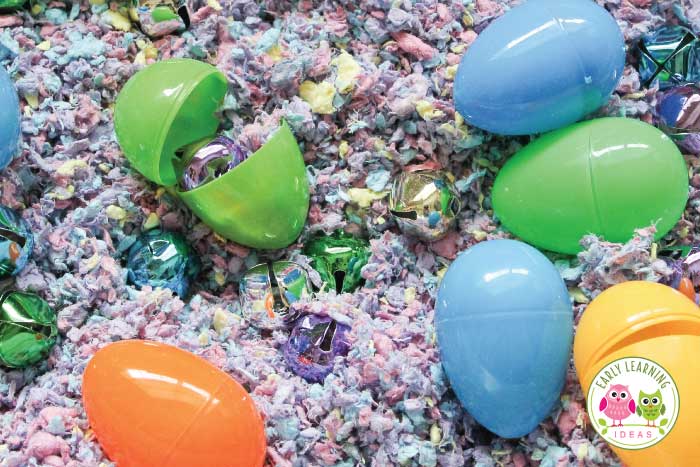 Use eggs with many different materials in a sensory table. Here, paper pet bedding, plastic eggs, and jingle bells make fun spring fillers for the sensory bin. Preschoolers can experiment with sound by placing the bells inside the eggs and shaking them. Does the addition of paper along with the bells change the sound?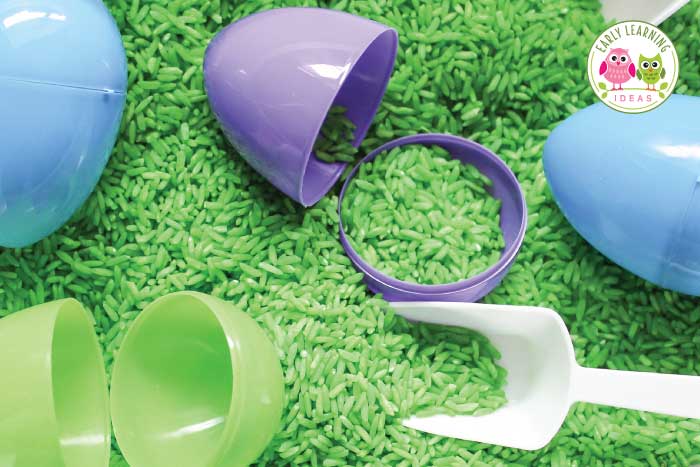 Add plastic eggs and small scoops to a sensory table that has been filled with rice or beans. Kids can fill the eggs and shake them. Let them experiment to see how different quantities of filler changes the sound.
Experiment with Lights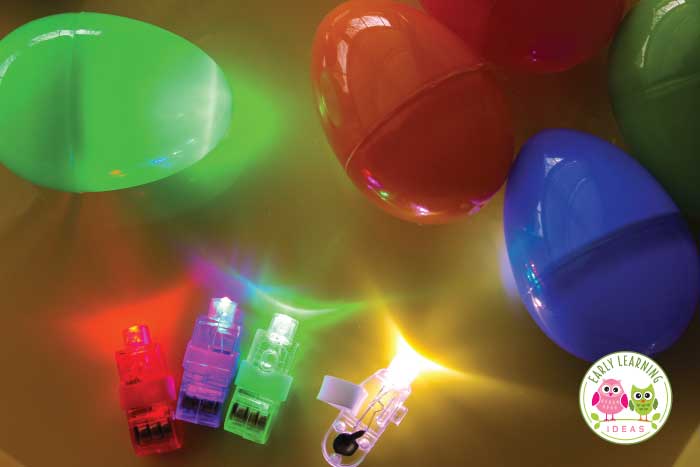 I had little finger lights left over from my Valentine's Day cards, and found that they are fun to use with plastic eggs. Kids can turn them on, place them inside the eggs, and admire the glow. Glowing eggs can be hidden inside baskets or sensory tables filled with plastic grass. Kids can also experiment with the different colors of finger lights. How does the blue light change when you place it in the red egg? or in the green egg?….
Additional Egg Activity Ideas
Rhyming – Fill a really large egg with an object. Give kids rhyming clues to help them guess the contents of the egg. For example….fill the egg with a stuffed cat and tell the kids that the object inside the egg rhymes with hat and sat. You can also give kids beginning sound clues….the object starts with the same sound as carrot.
Magnets – Place magnets inside eggs for a fun activity by Frugal Fun for Boys and Girls.
STEM activities – The Educator's Spin on It also provides several ideas for STEM activities using plastic eggs.
Do you have more ideas for learning activities for preschoolers? I would love to hear about your plastic egg ideas in the comments below.
Looking for additional hands-on seasonal activities? Check out the resources below in my store.