Syllable Activities for Kids: 10 Playful Ways to Break Words into Syllables
Here are 10+ fun syllable activities for kids. Teach kids how to break words apart into chunks or syllables with these phonological awareness activities.
Today I am going to share a bunch of syllable activities for kids. The ability to break words apart into chunks or syllables is an important step in developing reading readiness.
Playing with words can be so much fun for kids. Here are a bunch of ideas for breaking apart, emphasizing syllables, and counting syllables. The best part…… These ideas for syllable practice for your preschool and kindergarten kids are FUN.
Clapping Syllables
One of the easiest ways to emphasize and count syllables is to clap them. Use names to introduce the concept to kids. Say a child's name slowly while emphasizing the different syllables. Show children how to clap their hands for each syllable. Soon, they will understand that Collin is a two-clap name and Joanna is a three-clap name.
As you read books to kids, stop and clap the syllables of the characters in the story. Kids can also clap the words that they find on word or picture cards or environmental print.
The Syllable Counting Clip Cards above are from my TPT store. Kids can select the number of syllables (claps) in the word on each card. You can use name cards, picture cards, or even a basket of objects. Ask kids to clap the syllables for each object or picture and sort them by the number of claps.
Waving Ribbons
Instead of clapping syllables, kids can wave or shake dancing ribbons or a piece of crepe paper as they count syllables in words.
Drumming Syllables
Small drums can be used to break words apart into syllables. If you don't have an actual drum….no problem. Use an upside-down bucket with a stick, a wood block with a stick, or use two rhythm sticks.
Kids will have fun experimenting with different kinds of drums. I love the idea of using a pumpkin as a drum while counting the syllables in fall and Halloween-themed words. Now my wheels are turning as I start thinking about other items kids can drum. PLEASE let me know if you think of any great ideas!
Shaking Syllables
Tambourines, bells, and shaky eggs are a fun way to break words apart. Show kids how to shake their instrument one time per syllable.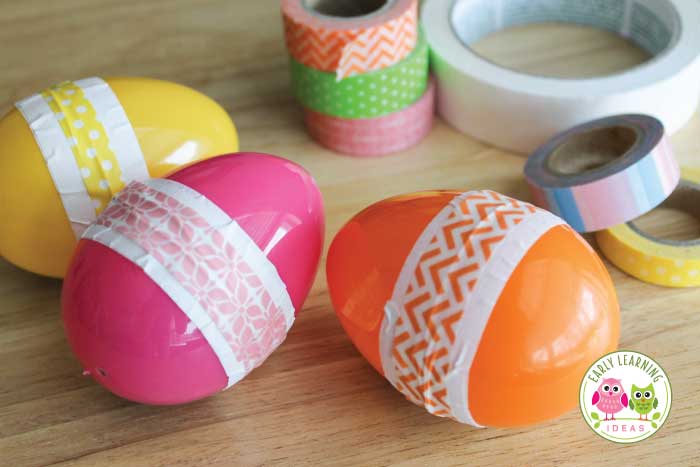 Ring Jingle Bell Sticks
Use the bells in your instrument basket or make your own jingle bell sticks to use for wordplay.
Pounding Syllables
This is a good reason to gather hammers from the toy toolbox or the Whack-a-mole game. Kids can pound the hammer for each syllable in a word.
Another great idea for counting syllables is to use two pool noodles. Cut the pool noodles into smaller sections and let kids pound them together.
Combine Science and Literacy
Fill plastic containers with different materials. Kids can shake the containers to see how they each sound and weigh different. They can also use the containers to emphasize syllables.
Puppets
Use puppets to help read a book. Pick out a few words from the book to see how many claps the words have.
Action Activities
When you use movement to emphasize syllables, kids can learn AND get their wiggles out at the same time. Ask kids to do the following as they emphasize or count syllables in words:
tap their toes, march
do jumping jacks
give a high five to their friend
touch their elbow to their knee
tap their head
You can make a game of it by letting kids select the action and/or the word.
The action spinner above is a great way to select an action. It can be found in my Seasonal Syllable Counting Activity Set in my TPT store.
I hope this gave you some great ideas for dividing words into syllables. Now, you and your kids can go out and have fun playing with words.
---
If you are looking for additional hands-on syllable activities, check out the following in my store: