Young kids will enjoy this frog counting activity. Use my free pattern to make numbered lily pads. Kids will enjoy using the number lily pads in a sensory bin or water table. They are perfect for your frog theme, pond theme, or spring theme unit, and lesson plans in preschool or pre-k.
Here is a fun frog counting activity that you can use with your kids at home or in school. I'm going to show you how I easily made numbered lily pads and will give you a few ideas for using them.
Lily Pad Supplies
To make these numbered lily pads you will need the following supplies:
sheets of green foam
scissors
green permanent markers
Download the Pattern
If you need some help making lily pads, you can download a pattern by clicking the link below:
Print and cut out the pattern and then trace it onto the foam.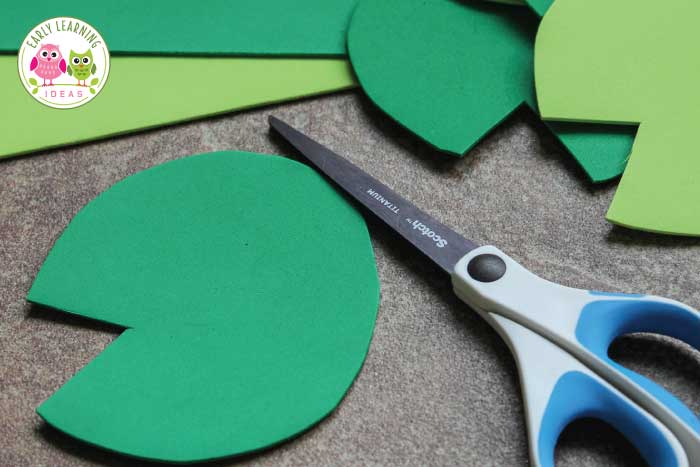 Make Your Lily Pads
After tracing the pattern onto the foam, you can cut out the lily pads. I used two colors of foam to mix things up a bit. After cutting out the lily pad, I outlined the shape with a green sharpie. You don't have to do this, but I just think that it makes them look a bit more interesting.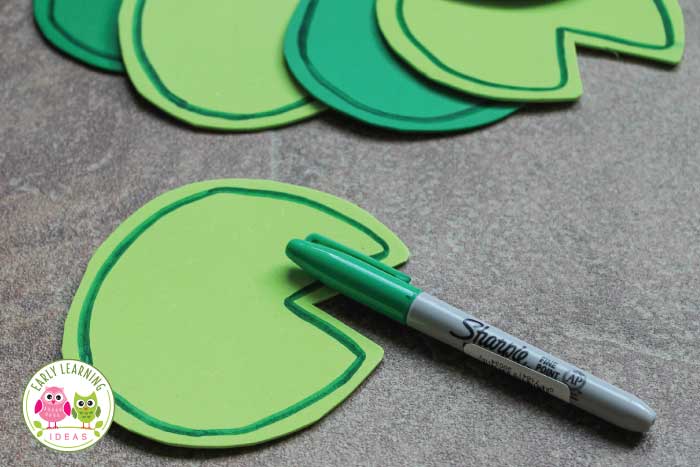 I then wrote numerals on one side of the lily pads and made dot patterns on the other side. Let them sit for a while so that the sharpie has time to dry thoroughly.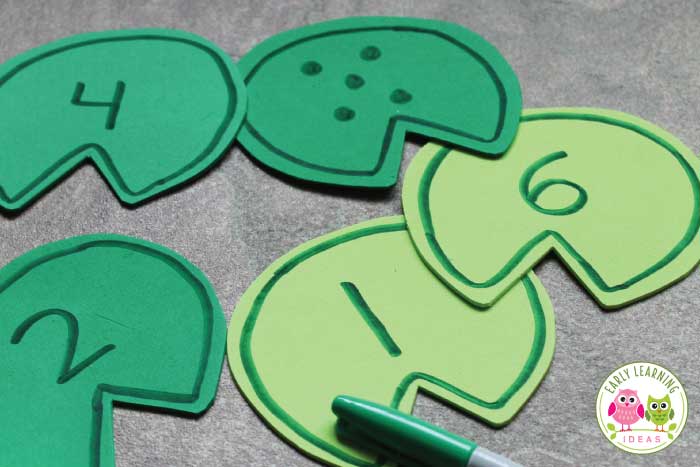 Water Beads are the Bomb!
The lily pads, along with a bunch of small plastic frogs, can now be added to a sensory bin, water table, or a large plastic container filled with water. This is the perfect time to use my favorite sensory material – water beads! I love how these babies feel. Here is my little recycling hint for the water beads….don't throw them away when you are done with them. I add the little gems to my containers of flowers. I am really bad about remembering to water my outdoor containers and little beads really help maintain moisture in the containers. Sorry for that little tangent, but I wanted to share my little tip.
Frog Counting Activities
Kids enjoy counting the frogs as they add them to the top of the lily pads. They enjoy seeing how many frogs can be added to a lily pad before it sinks. Let kids experiment. We found that completely wet lily pads seemed to sink faster. Wiping the lily pads off with a towel after they were submerged helped them float better again. Did you make any discoveries?
If kids aren't quite ready for numeral recognition, you can use lily pads with dot patterns. Kids can duplicate the dot pattern with frogs. You can also use the frogs and lily pads to practice one-to-one correspondence (no need for numerals or dot patterns on the lily pads for this) and kids can simply place one frog on each of the lily pads.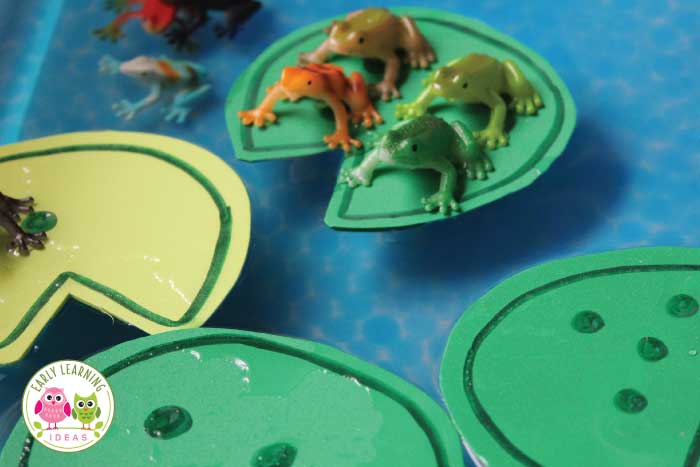 Composing and Decomposing Numbers
With older kids, you can practice composing and decomposing numbers. Find two different colors of frogs to use so that kids can see how many different combinations of the frogs they can use to make a particular number.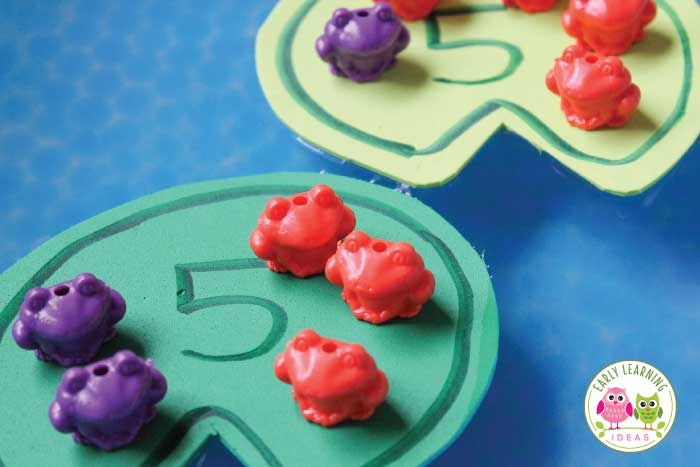 No Need For Water
Don't feel like dealing with a watery mess today? Don't worry!…..You can do all of the activities above on a table or on the floor…without water. You can also use jumping frogs or sling shot frogs with the set. Kids can try to land a frog on a numbered lily pad as pictured below. You add some gross motor fun by asking the kids to determine the number on the lily pad and then performing that number of frog jumps.
Hopefully, I gave you a few ideas. I'm sure that you can come up with another frog counting activity or two using the lily pads and I would love to hear them.
---
If you are looking for additional frog activities for your kiddos, check out my frog-themed products in my TPT store.
---
Below are some items from Amazon that can be used for these froggy activities. The links below are affiliate links. If you happen to purchase something from link, there will be no additional cost to you, but a small portion of your purchase will be used towards the cost of maintaining this website.