Inside:  Math games for preschoolers are a great way to teach and reinforce basic math concepts.  Here is a simple ten frame game (with free printable).  It's a great hands on math activity that kids love to play.  
---
Are you looking for a fun, hands-on way to teach counting and basic math concepts to kids?  One of my favorite math games for preschoolers is a simple fill the frame game with a ten frame.  The game helps kids understand and talk about many early math concepts.  It can be easily differentiated and best of all…..kids enjoy playing the game.
Here is What You Need to Play
Ten Frame:  This ten frame game works well with 2-4 players.  You will need 1 ten frame for each player.  Click HERE to download the free printable ten frame.
Spinner:  The game can be played with a die, but I prefer to use a 1-3 game spinner.  Click HERE to download a free printable spinner.  You need 1 spinner for each group of kids.
Counters:  You will also need ten counters for each ten frame.  Use anything for your counters…..coins, little people, bottle caps, legos, unifix cubes, poker chips, little erasers…..
Putting it All Together
If you use my printable ten frame and game spinner from above, you can customize them however you wish.  For me….making a homemade math game is lots of fun!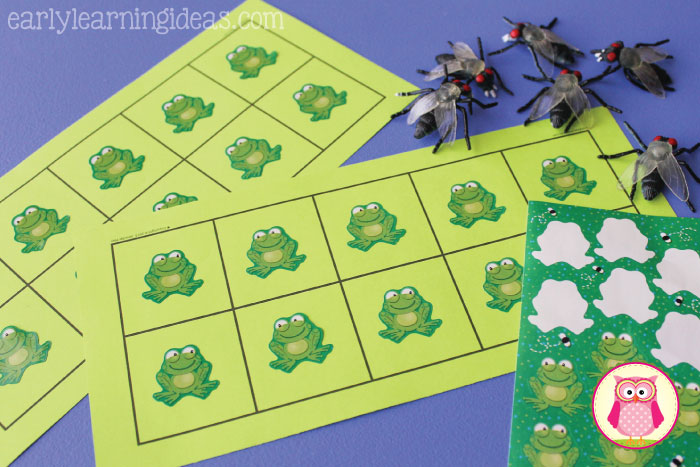 Of course you can print them on different colors of paper.  Add stickers, or photos to the ten frame game board or spinner so that they coordinate with a seasonal or thematic unit.  You can also add stickers or small pictures to bottle caps or poker chips to create thematic counters.
I added frog stickers to the game boards above.  I also have some plastic flies (ewww) that make perfect thematic counters.  It can get kind of silly playing because we joke about feeding the giant flies to each of the frogs.
If you don't have a spinner to attach to the printable game spinner, you can make a spinner with a brad and a paper clip.  No brad and paper clips in the desk drawer?  You can use a die instead.  Make a custom 1-3 die with a small square block.
How to Play
Give each child in the group a ten frame and 10 counters. Use one spinner for the group.  Each child takes a turn spinning the spinner, naming the numeral spun,  and adding the appropriate number of counters to their ten frame.
Young children may need direction to fill the frame from top to bottom and left to right.   The children continue to take turns and the first child to fill the frame is the winner.  Children can clear their cards and start again after all of the spaces on the frame are filled.
Math Talk During the Game
The reason that I love playing this game with children is that it provides the opportunity to have conversations about math concepts.  Kids look at how many spaces on the frames have been filled as they play.  Encourage them to talk about the following:
How many counters are on their ten frame before a spin?
How many counters do you have after your spin?
How many more spaces need to be filled?  Can you fill them with one spin?
Ask them to compare one player's ten frame to another player's ten frame. Who has the most counters?  Who has the fewest counters?
Try out a ten frame game and let me know how it goes.
Additional Activities and Math Games for Preschoolers
I have a variety of thematic ten frame activities and math games for preschoolers in my store.  Click on the pictures below to check them out.