How to Make Environmental Print Word Cards for Your Kids
Today I want to show you how to make environmental print word cards with my free template. You can use the cards for a variety of fun and meaningful literacy activities with your kids.
What is Environmental Print?
Before I show you how to make environmental print word cards, I want to tell you a little bit about environmental print. You may be wondering ….what in the world are you talking about? Well, environmental print is all the print that we see in our everyday life.
In your kitchen, you see labels on food, wrappers on candy bars, and logos on bags of chips. Can you tell that I am hungry? When you drive around your neighborhood, you see road signs, store & restaurant logos, hospital signs, etc.
All of these things are environmental print.
Why is Environmental Print Important?
According to Reading Rockets, this print helps kids make connections between letters and actual reading. Think about it….young kids cannot read yet, BUT they can probably recognize the logo of their favorite restaurant or on the box of legos. They know what a stop sign says.
So, much like name activities, environmental print activities provide a great way to work on early literacy skills because kids are interested in this type of print AND it's meaningful to them.
How to Make Environmental Print Word Cards
Use the Free Name Card Template
You can use my word wall name cards to easily make environmental print cards for your kids. The first thing that you need to do is to download the free name cards.
Find Images for Your Word Cards
Next, start thinking about the name cards that you want to make. Think about your kids' favorite foods, restaurants, stores, teams, etc. You are going to need to find logos for all of them. But don't worry….it's easy.
Let's say that you want to make an environmental print word card featuring Target.
Begin by doing a Google search for "Target".
In the browser, select an image search and your screen will be filled with Target image choices.
Right-click on a good-looking logo and select "save image as". I save my images in a download folder where I can easily delete them later.
If you want to make additional environmental print cards, go ahead and find and save images for them in the same manner.
Add Names and Images to the Template
Now that you have downloaded your free name cards and have found all the images, you are ready to complete your environmental print word cards.
Just like my word wall cards, the name card templates come in green, red, and black. Open the template color of your choice. Next, add all of your words/brands to the name list. Scroll down in the document and you will see that the words have been added to all of the word cards.
Now it's time to add the images. Left-click in the blank space on the right side of each word card (there should be an image icon there). When you click, a pop-up should appear. Select "browse" and then select an image that you previously saved.
Add images to the remaining cards. Now you are all set to print them and use them for literacy activities with your kids.
Video Tutorial
Sometimes it helps me to see a video demonstration, so I make a quick tutorial for you to see how I made the cards.
If you experience problems with the document, please see my FAQ page. You need to make sure that you are using the most recent version of Adobe Acrobat Reader and you need to make sure that you are opening the document in Adobe Acrobat Reader instead of your default browser.
Environmental Print Activities
Use your cards to create a print-rich environment in your classroom or home. Here are some ways that you can use the word cards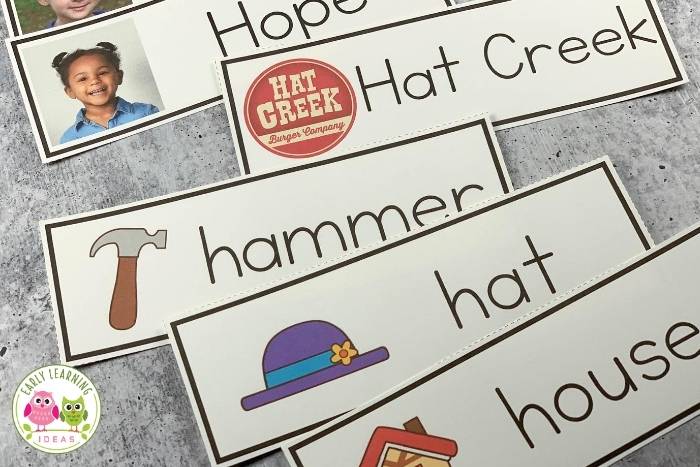 Add them to a classroom word wall
Use them in pocket charts
Make a beginning sound activity – sort them by beginning letter
Create a card for each letter of the alphabet and make an alphabet ring
Combine with name cards and word wall cards to make a letter activity ring
Sort letter with the cards
Use cards in your writing center
Add cards to the block center
Make 2 copies of each card and create a matching game
Cut the cards into several pieces to create puzzles
Purchase the COMPLETE Set of Word Cards
To get the complete word wall card set visit my store today.