Count and Clip Cards: This is How to Easily Combine Math & Fine Motor
Count and Clip Cards are a great resource for your early childhood educational toolbox. There are many ways to use them, PLUS they are a great fine motor activity for your kids.
Let me show you a few different kinds of count and clip cards, and I'll also give you some fun ways to use these clothespin activities for preschoolers.
Why Count and Clip Cards Are Great
I love count and clip cards because they are so versatile. First of all, you can use them for fun hands-on math activities and for fine motor activities.
It's easy to adapt them to different learners' levels and adapt them for various holidays and themes. Using a clothespin clip will also help your kids build hand strength that will enable them to grasp and control a pencil and learn how to cut with scissors.
Two Types of Cards
Today, I want to show you two different types of count and clip cards – number clip cards and counting clip cards. The images in this article feature cards available in my store, but you can also make them yourself using stickers and cardstock.
Number Clip Cards
Number clip cards feature a large numeral, and kids can then add the corresponding number of clips to the card.
Use a card with dots to help kids who are working on one-to-one correspondence. Notice that I used one of my favorite fine motor office supplies instead of clothespins this time.
A card without dots will be a little more challenging for kids.
Provide two different colors of clips, and kids can work on constructing numbers.
Here, they can see that 4+1=5, and they can experiment with additional ways to make 5.
You can also use the cards for a counting and color matching activity.
One of my favorite things about this activity is that if you like being creative, you can quickly make seasonal or thematic activities. Use hot-glue to attach mini-erasers, stickers, or buttons to the end of the clips.
I covered the clothespin clips with washi tape then completed the clips with some foam elf stickers to make a cute Christmas fine motor and math activity.
You can also use different types of clips. In addition to clothespin clips, you can use office supplies for fine motor activities. Try binder clips or paperclips.
Counting Clip Cards
Counting clip cards contain images. Kids count the images on the top of each card. They then add their clip to the correct number from the choices at the bottom of the card.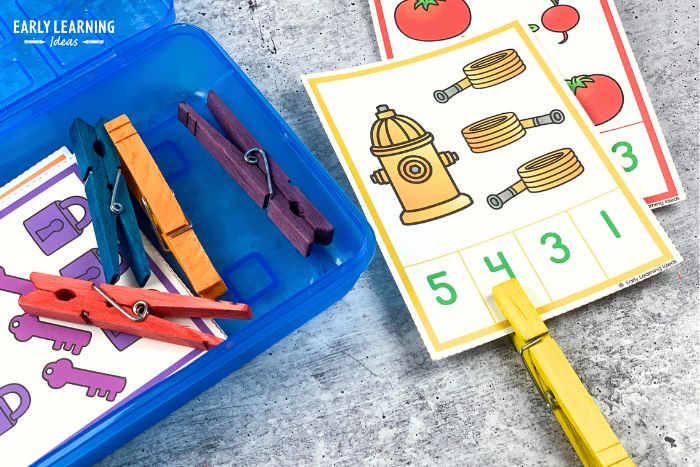 Counting clip cards are fun, and you can find them for a variety of different themes. You can use stickers to create your own clip cards.
How to Find the Best Counting Clip Cards
The best counting clip cards have objects that can be counted in different ways. Think about that when you purchase or make your cards.
What in the world am I talking about? Take a look at the card pictured below. Kids can count 2 tractors or 4 wheels on the card.
Here is another example. On this card, kids can count 6 blueberries or 3 pairs of blueberries.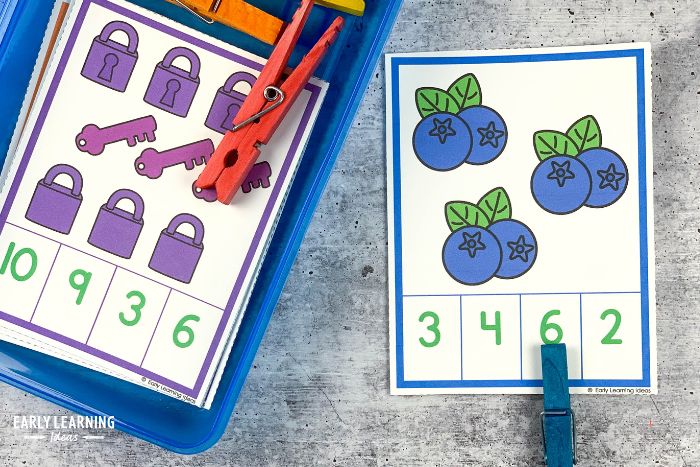 Are You Ready to Use Count & Clip Cards with Your Kids?
The printables pictured in this post are part of my Math & Fine Motor Clip Activity Set. Click on the image below to check out the resource in my store.