How to Make Kids Giggle with These Extra Silly Rhyming Books
These silly rhyming books for preschoolers feature your kids' names and pictures. Your kids will beg to read these fun lift-the-flap books over and over.
What's better than silly rhyming books for preschoolers? …..Silly rhyming books that feature your kids' photos and names!
These silly lift-the-flap rhyming books from my store will help your kids learn to recognize and produce rhymes. You can use the fun literacy activity in your class library, at circle time, and even as a rhyming game. The class books, featuring familiar faces, will quickly become a favorite rhyming activity that your kids will want to read over and over again.
Have you ever heard the "Willoughby Wallaby Woo" rhyming song? These books were inspired by that song. I created 4 versions of the rhyming flipbook and they are all included in the printable resource.
You can make a turtle book, a zebra book, a bear book, or a hippo book. If you feel like mixing things up a little bit, you can also make a book featuring more than one of the animals…a generic cover is also included.
Do you need some tips about introducing rhyme to your kids? Be sure check out my article about how to teach rhyming words to kids.
This is How The Rhyming Books Work
Read the text on the flap and asked the kids to guess the name of the child that they will see on the next page.
Once they get the hang of the rhyming thing, they will be able to figure it out. Zelicia rhymes with Felicia.
Next, flip the small flap over to reveal the whole page below. Look! A zebra is sitting on Felica's head!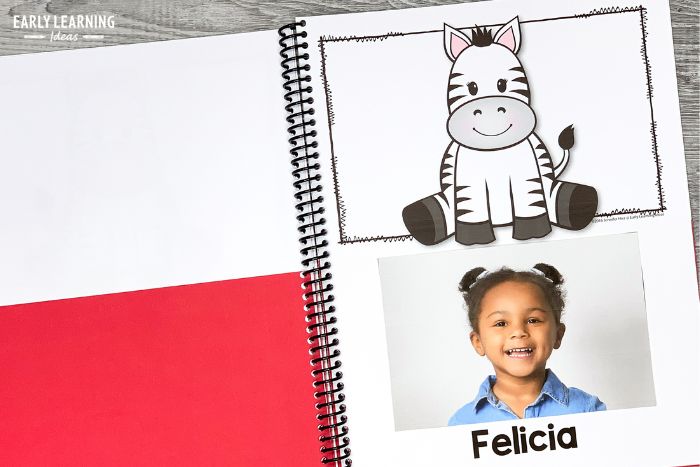 How to Customize the Rhyming Books
When you purchase the rhyming book resource, you will get a PDF document for each version of the book.
When you open a document, you will find a form at the very beginning. This form will help you easily customize your book.
*To edit the documents properly you will need to open the documents using the most recent version of Adobe Acrobat Reader. If you don't currently have the program on your computer, you can get it for free.
All you have to do is add your kids' names in the first column of the form and type the rhyming version of each name in the second column. Below is an example of the form found at the beginning of the turtle book document.
I typed the names on the left and then added a T to the beginning of each name to create the rhyming name in the right column.
When you add names to the form, those names will be automatically transferred to the name pages and flaps throughout the document. Check out the page numbers listed beside each name to easily figure out which pages to print.
I like to print the name pages (the ones on the left column) on white paper. I then print the silly rhyming name flaps (the ones in the right column) on a colorful paper or cardstock. Make sure that the paper you use for the flaps is thick enough to hide the image and name on the previous page….you don't want kids to see everything under the flap.
Please see troubleshooting tips for help if you experience editing or printing problems.
Putting it All Together
If you haven't made a flipbook before, don't worry. It's really easy! Print a cover, name pages, and flaps. The flaps print 2 per page, so you will need to cut those pages in half. Print a photo of each of your kids and attach their pictures directly below the animals on each name page. A 4×6″ photo will fit perfectly.
Make the book extra silly by using pictures of your kids making funny faces or holding their heads.
After you have attached a photo to a page, place the matching flap on top. Be sure that the flap covers the bottom half of the name page. Place all of the pages in a neat stack, top with a cover, and bind them all together to complete your book.
Tada! Look what you made!
How to Use the Books
Your kids will have so much fun seeing their pictures in these books. Here are some ways to use them:
Share at circle time.
Add them to your class library.
Use as a take-home activity.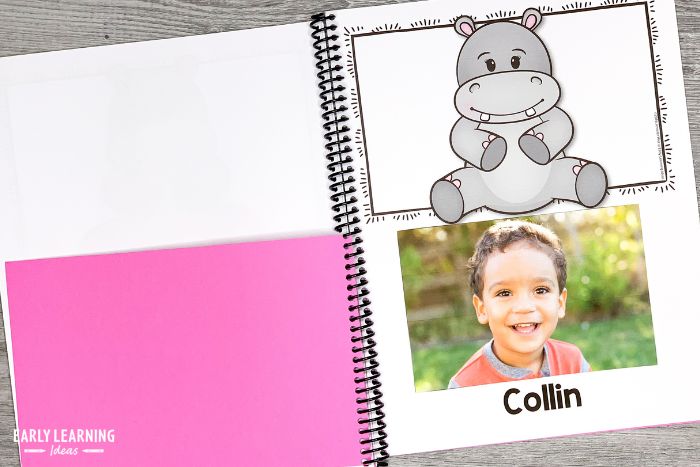 Fun Ways to Extend the Rhyming Activity
After reading the books a few times, you can extend the activity by adding additional rhymes. Get as silly as possible. Think about superheroes, tv or cartoon personalities, or additional names objects that you can add. For example "Hippity hoppity hom. A hippopotamus sat on my mom!" or "Tippity toppity tegos. A turtle sat on my legos!" Next, you can also ask kids to produce their own rhymes.
What are Teachers Saying About These Rhyming Books?
"Love these! They make my class smile or giggle every time we read them. So glad that this includes 4 versions. And the fact that there is little work for me makes me smile!"
"This is one of the best things I have ever bought. I teach preschool to a multi lingual classroom and this set really helped raise their phonemic awareness and rhyming knowledge in a fun and engaging way. The turtle version is their favorite and I have had to rebind it a few times. I love to hear my students read this book themselves, enjoying the silly rhyme and learning!!! "
"love. love. love. My students cannot read these stories enough. They are the first book they choose out of the library and I end up reading it to the class everyday."
Purchase The Rhyming Books for Preschoolers Today
Are you ready to create some silly rhyming books for your preschoolers? Click below to purchase your book today. The editable rhyming books are also part of my class book bundle. When you purchase the bundle, you will get 4 class book resources for a discounted price. Check them out by clicking below.
Purchase on TPT
Do you prefer to shop at Teachers Pay Teachers? You can also purchase the rhyming books in my TPT Store.