Squirt Gun Painting: Simple Summer Art Projects for Preschoolers
Summer is all about outdoor fun and getting creative with your preschoolers. Squirt gun painting is the coolest summer art activity that will have your little ones giggling with joy.
Okay, water gun painting can be totally messy, but that's why it is a PERFECT outdoor activity. Don't worry, I'll also give you some tips to overcome the messiness.
I'm sure that you will see that painting with squirt guns is super simple and a fantastic way to work those tiny fingers.
Let's take a look at one of the best simple summer art projects for preschoolers and how it secretly helps them develop their fine motor skills without them even realizing it!
I added several links at the bottom of this post to help you find materials faster. Just an FYI….the links are affiliate links. Here's how it works…I may earn a small portion of your purchase, but you will not be charged an additional fee when you purchase from the link.
Why is Squirt Gun Painting a Great Activity for Kids?
Water gun painting is perfect for simple summer art projects for preschoolers. In addition to being a fun and playful activity, there are more benefits to squirt gun painting that you may not have thought about.
Squirt Gun Painting Builds Fine Motor Skills
Many teachers and professionals report that young kids are struggling with fine motor skills that help them grip crayons and use scissors. One way to help kids is to get them to do activities that help them give the muscles in their little hands and fingers a workout.
Squirt guns are a great fine motor tool!
Sometimes the kids who need to develop fine motor skills are the same kids who avoid fine motor activities like the plague. But, sometimes, you can find an extremely engaging activity for these kids. Fine motor painting activities can be extremely engaging activity.
Squirt Gun Painting is an Excellent Process Art Activity
If you are all about process over product, well, this is the project for you! Squirt gun painting is the epitome of process art. It's a wild, unpredictable ride.
Picture this: kids squeezing those triggers, paint bursting out in vibrant colors, and the sheer joy of watching the splatters hit the paper. It's a sensory explosion and a chance for little ones to experiment, make choices, and let their creativity run wild.
It's messy, it's fun, and it's the ultimate art experience!
Here are The Materials That You Need for Squirt Gun Painting
With a few simple supplies, you and your kids can start creating water gun masterpieces in no time. Here is what you need:
What Kind of Squirt Gun Should I Use?
The first supply that you need for squirt gun painting is, obviously, a squirt gun.
Water guns are harmless, but I'm still not a fan of using guns, pistols, or cannons with young kids. There are plenty of fun, brightly colored waterguns that you can use for this project. I found these ocean animal shaped squirt guns that work perfectly.
Some people ask, "Do water guns work with paint?" The answer is yes! Virtually any water pistol will work with paint. But let's take a closer look at the paint that you should use for this fun art project.
What Kind of Paint Should I Use for Squirt Gun Painting?
Tempera paint is a great inexpensive and all-purpose paint to use for this project. I prefer non-washable temperas because they have the brightest and most vibrant colors.
Additional Supplies Required for Squirt Gun Painting
Squeeze Bottles – In addition to squirt guns and paint, it's a good idea to have some plastic squeeze bottles. The bottles will make it easier for you to fill up the squirt guns with the paint solution.
Paper – Large sheets of white paper are perfect for this project. You can also paint on canvas, cardboard, or any kind of scrap paper.
Easel (optional) – If you have an easel that can be hosed off, that's perfect. If you don't have an easel, I'll give you some tips below.
Where and How to Set Up Your Squirt Gun Painting Station
Squirt gun painting art is a fun and messy activity. That's why it's a perfect outside activity. If you are brave enough to squirt gun paint inside, be sure to protect nearby walls, floors, etc. with plastic.
When painting outside, you can use an easel and then hose it off when you are done, but an easel is not necessary. I happened to have a large piece of cardboard that I attached to a fence and then taped the paper to the cardboard.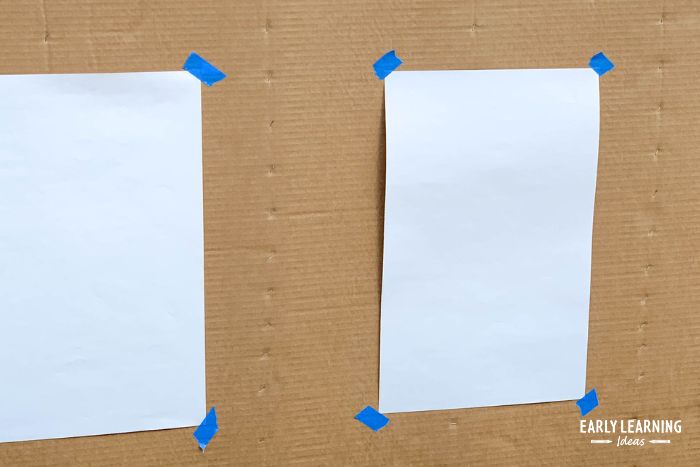 How to Paint With Squirt Guns
The painting process is pretty easy and just involves 3 steps:
Dilute the Paint
Fill the Squirt Gun
Aim and Shoot!
Dilute Paint
Begin by adding a few squeezes of tempera paint to a plastic squeeze bottle. Dilute the paint by adding water to the squeeze bottle. Shake it up to mix it all up. You might have to play around with the consistency. You want enough paint in the mixture to create a vibrant design, but you want it to be thin enough to flow throw the squirt gun properly.
Fill The Squirt Gun
Next, fill a squirt gun (or shark squirter…ha) with the paint mixture. This is where the handy dandy plastic squirt bottle comes in. You will be glad you have one because it makes the task much easeier.
Squirt the Paint
Finally, kids can spray the paint onto paper. At this point, you will hear giggles of delight as they watch the paint splat and drip down the paper.
Note: If you are painting outside, be careful when you remove the paper from the fence, easel, or cardboard. Don't let the wind blow the wet side of the paper on you. The first time I tried removing a paper, I had an arm and sleeve covered with paint.
Experiments and Extensions
Here are some ideas for experimenting with squirt gun painting.
Try different types of paint or different concentrations of paint solutions. What do you notice?
What happens when colors mix on the paper?
Try standing at different distances from the paper. Do you notice a difference in the paint?
Hold the water gun at different angles. Do you notice a difference?
What do you notice about the paint when it hits the paper? Why do you think that it runs down? What happens when you turn the painting?
Encourage kids to work together to create a large painting or mural
Cut out a shape or letter and use it to mask out an area of the paper.
You can see that squirt gun painting is not only a fun process art activity for your preschool kids, but It is also a great way to work on hand strength and even do a little bit of scientific experimentation.
Purchase These Creative Fine Motor Crafts in the Store
Are you looking for additional creative activities to help your kids boost their fine motor skills? Check out these fun crafts in the store.
---
I listed some items below that you can use for the activities mentioned in this article. The links below are affiliate links. Amazon will not charge you an additional fee if you purchase something from a link, but a small portion of your purchase will be used to maintain this website.