FREE list: 200+ Materials for Preschool Letter Activities and Collages
Use letter activities like alphabet collages or letter mats to help kids learn letter recognition and to reinforce letter-sound associations. Here are over 200 material ideas that you can use for your alphabet collages, letter crafts projects, or letter mats. You can also get A FREE ABC materials reference list.
Letter Crafts
There is much debate in the world of early childhood education about whether craft-making is appropriate. While I am definitely a proponent of process art, I believe that preschool craft activities can be beneficial in several ways. Crafts can provide opportunities to work on strengthening fine motor skills and following step-by-step directions.
But, I like to ensure that there is room for self-expression within the project.
Alphabet Collage
Alphabet collage is a craft project that can also help kids work on:
letter recognition
writing letters/ proper letter formation
reinforcing letter-sound associations
PLUS, the alphabet project can provide a great sensory, tactile, and fine motor experience. I have provided a large list of material ideas that will help you create a collage or craft for each letter of the alphabet. I even included a printable list that you can use as a reference.
Fine Motor Activities
So you don't want to do a craft project? No problem. The materials listed below also work for fine motor activities. Kids can place the materials on a printable letter to work on
letter recognition
letter formation
letter-sound associations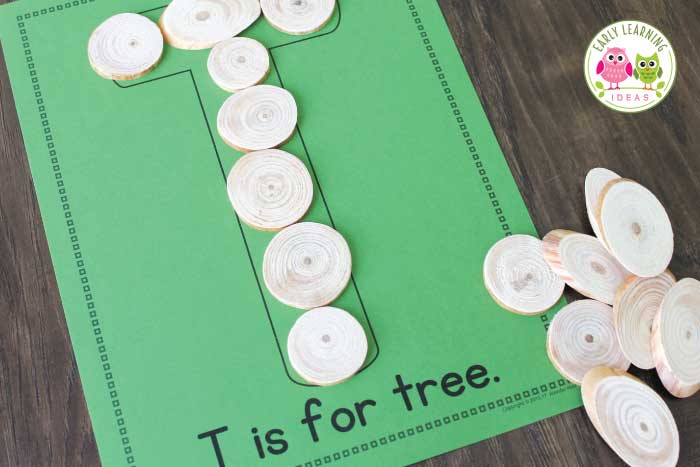 A Note About Letter of the Week Activities
Just as the role of craft activities in the preschool classroom is up for debate, the use of a Letter of the Week is also controversial. If you do a letter of the week in your classroom, you will love the material list to help you with ideas. If you don't introduce a letter of the week in your classroom, you will still find my material list useful as you introduce letters and revisit letters throughout the year.
Make a Letter Page
To create a collage or letter mat you will first need to make a letter page or a page with big bubble letters on it. There are several ways to prepare your letter pages. Draw a large letter on a piece of construction paper or card stock. Make a pattern with a piece of cardboard or cardstock. Then, trace the letter onto pieces of paper. You can also use printable bubble letters (I used editable ABC Collage Pages from my store for many of the pictures here).
Now, you can create a collage by gluing some of the materials listed below to the page. This is the fun part! If you want to make a letter mat that can be used over and over again, just laminate the pages. Then, kids can then place some of the items listed below inside the shape of the letter on each mat instead of gluing.
Letter Project Material Ideas List
You can use just generic materials to fill in the bubble letters, but sometimes it's fun to use a material that starts with the same letter as the on the page. This is where it gets tricky. I know that you are super busy and you can't always think of things to use. So I have helped you out.
Here are a BUNCH of material ideas for every letter of the alphabet. Look at all these ideas for letter activities!
Some of the ideas work well for craft projects, while others work better for a letter fine motor activity. Scroll down to the bottom of the page to get a printable list that you can always have on hand for reference.
Have fun and be creative!
Letter A Alphabet Activity Material Ideas
Try out some of these materials to create Letter A crafts or collages:
apple stickers
animal stickers
small animals
ant stickers
plastic ants
toy ambulance
use the letter A as an air
plane runway for a toy airplane
animal crackers
avocado colored paint
Letter B Alphabet Activity Material Ideas
With all these ideas, it should be pretty easy to find items to create a fun Letter B craft collage.
blue paper strips/collage items
blue sticker dots, balloon stickers
artificial berries
beads, buttons
dried beans
band-aids,
small blocks
balloon painting
counting bears
bows
bubble paint
strips of bubble wrap
butterfly, bug, or bee stickers
plastic butterflies, bees, or bugs
blue torn paper
Letter C Activities Material Ideas
Here are some materials that you can use to create a letter C craft page.
car stickers or stamps
crayons
candy
coins
cookies or crackers
small cars
candles
cubes
corn kernels
print with an ear of small corn on the cob
cotton (or clouds)
confetti
Letter D Materials for Alphabet Activities
I think that your kids will have fun with some of these Letter D craft materials.
dot markers or dot stickers
dinosaur counters or stickers
dominoes
dice
plastic ducks
small plastic dinosaurs or dragons
dog stickers
dog treats
donut holes
dandelions or daisies
daisies
strips of denim
dirt
Letter E Material Ideas for Alphabet Activities
Looking for ideas for letter E crafts or activities? check these out:
smashed eggshells
Easter egg stickers
erasers
small plaster eggs
googly eyes
print with half a plastic Easter egg
Elmo stickers
elephant stickers or stamps
emoji stickers or erasers
Letter F Activity Material Ideas
Are you ready to make a letter F craft? Try these materials.
feathers
dried or silk flowers
fingerprints
fish stickers
flag stickers
small flags
fruit loops
plastic frogs
plastic fish
photos of friends or family
foam
strips of foil
fur
fluffy, fuzzy or just plain fabric
Letter G Activities Material Ideas
From glitter to grass clippings, there are lots of materials that you can use for letter G crafts and activities.
use glitter pens
glitter or glitter paper strips
green collage items
goldfish crackers
Easter grass
grass clippings
drips or drops of glue
plastic grapes
pieces of gum
golf tees
game pieces
Letter H Materials
I'm happy to provide a few ideas for letter H crafts and activities.
smiley face stickers (happy)
heart stamps or stickers
hair (use doll hair from the craft store)
Monopoly houses
small plastic horses
horse stickers
holes (make holes with a hole punch)
Letter I Activities with these Materials
It may be a bit more difficult to think of ideas for letter I crafts and activities. Check these out:
insect counters, stickers or stamps
ice cream stickers
ink
plastic ice cubes
ivy
broken ice cream cones
plastic icicle ornaments
paint with ice
Letter J Activity Materials
Looking for ideas for letter J crafts and collages? Try out some of these fun materials.
jingle bells
jellybeans
jewels or jewelry
jack-o-lantern stickers or erasers
junk food wrappers
jigsaw puzzle pieces
jeans (denim fabric scraps)
jungle plants
jacks
pieces of jump rope
Letter K Activity Materials
From keys to kisses, here are a few materials that you can use for letter K crafts and activities.
keys
key prints
kite stickers
kale
kangaroo, kitten, or koala stickers/stamps
Hershey's kisses
lip-print stickers (kisses)
small king playing cards
kettle corn
Letter L Activity Materials
Letter L crafts and activities will be fun with these materials:
letter stickers
legos, lace
ladybug stamps/stickers
leaves (real or silk)
lentils
lids
lollipops
plastic lemons
lemon prints
Christmas lights
Letter M Activity Material Ideas
There are LOTS of materials that you can use for letter M crafts. Check these out:
dried macaroni
marshmallows
play money
stick-on mustaches
markers
plastic mice
marble painting
m&m's
monkeys (from a barrel full of monkeys game)
mud or mulch
magnets
Letter N Activity Material Ideas
Make letter N crafts with ease with these materials:
strips of newspaper
noodles
nest materials
number stickers
nose pictures
nuts (….as in nuts and bolts)
Letter O Activity Material Ideas
Oh my goodness! Here are some great materials that you can use for letter O crafts and activities.
orange paper/collage elements
ovals (print with a squished paper towel roll)
owl stickers/stamps
ocean stickers or small plastic ocean creatures
oatmeal
mini Oreos
ocean animals
cheerios
stamp or paint with sliced okra
Material Ideas for Letter P Activities
I have lots of letter P craft ideas for you!
popcorn
purple paper or collage elements
puzzle pieces
paper clips
post-it notes
pennies
pom-poms
Pez candies
paw print stickers/stamps
pencil
paint
photos of pets
foam peanuts
pasta
pieces of plastic
Material Ideas for Letter Q Activities
Q is not the easiest letter, is it? Here are a few materials that you can use for your letter Q craft and activities.
squares of patterned fabric to look like a quilt
q-tips
quarters
question mark stamps
Letter R Activity Materials
I have lots of ideas for letter R crafts for you.
red paper or collage elements
rainbow stickers
rose petals
rough textures (sandpaper)
ribbons
rice
rainbow rice
rubber bands
ribbon strips
toy rings
rhinestones
Letter S Activity Materials
Here are some letter S craft material ideas.
snow (cotton balls, white puffballs, or fake snow used for Christmas village displays)
snowflake stickers
white glitter (snow)
smiley face stickers
spaghetti noodles
stamps
sand
stars
sequins
strips of string
drinking straws
straw
streamers
sticks
seeds
soil
Material Ideas for Letter T Alphabet Activities
You can make some fun letter T crafts with these supplies:
toilet paper
strips of tape
triangles
train stickers/stamps
toothpicks, tissue paper
tickets
turtle stickers
plastic turtles
small toy tractors
Letter U Materials
I struggled to think of letter U craft ideas. Here are a few ideas. Can you think of any more?
letter u stamps/stickers
drink umbrellas,
arrow stickers or stamps (up)
Material Ideas for Letter V Activities
From violets to vines, these materials will help you make some fun letter V crafts.
violet paper or collage elements
artificial violet flowers
vegetable stickers
vegetable pictures from a seed catalog
print with vegetables
Valentine stickers
vines
Material Ideas for the Letter W
Do you need letter W craft ideas? Look no further!
watermelon stickers
wheel prints
plastic worms
wagon wheel pasta
watercolor paint
water drops (on a laminated letter)
strips of washi tape
Letter X Activity Material Ideas
Finding materials for letter X crafts is a little challenging. Here are some ideas for you:
letter X stamp
x-ray strips (I printed the x-rays from my Doctor Dramatic Play set)
number six stamps
Letter Y Materials
Do you need some ideas for letter Y crafts and activities? Here are a few:
yarn
yellow paper or collage elements
Letter Z Materials
Last, but not least, I have some ideas for letter Z crafts for you.
zig zags (cut small strips of zigzag paper using pinking scissors)
zoo animals, zippers
attach a zipper to a block to make a zipper print or stamp
small zoo animals or zoo animal stickers
zebra stamps or stickers
Get a Printable Materials List
Would you like a printable version of this list so that you will have it on hand when planning your letter activities? Fill out the form below, and I'll send the list directly to your mailbox.
Additional Ideas
\
Print a bunch of pictures of the kids in your class or pictures of your friends/family. Kids can then paste the photos on letter pages.
Bind all the pages together into a family book or class book.
Make a book about a specific letter. Use a different material for each page.
Create a name book featuring the letter in each child's name.
Purchase The ABC Collage Sheet Printables
The editable printable ABC Collage Sheets shown in many of the pictures above can be purchased at my store. Use the sheets to create a custom alphabet book or use the pages individually. Click on the image below to purchase the resource.
Do you prefer to shop at Teachers Pay Teachers? You can also purchase the Alphabet Collage Sheets in my TPT Store.
I hope that you have fun using alphabet pages for letter activities. Do you have additional material ideas that can be added to the list? Please let me know.