How to Use These Alphabet Books for Each Letter for Fun Literacy activities
Are your preschoolers ready to learn their letters and sounds? Are you looking for an easy and fun way to teach them? Well, let me show you these little printable alphabet books that can help your little ones learn their ABCs in no time!
Don't forget to pick up your free letter A books for preschoolers so that you can try out the hands-on activities with your kids.
These easy-to-assemble little alphabet books for each letter will give your kids a variety of ways to learn letter recognition, letter sounds, and letter formation.
These little books are a great literacy activity to help kids learn letter recognition, letter sounds, and letter formation. You can purchase the complete set of alphabet books in the store, and you can download your free copy of a sample book today.
When you see how easy these books are to assemble, I know that you are going to love them. Use them for a letter activity in class or send them home with your kids.
How Do I Teach My Kids to Recognize The Letters of the Alphabet?
Teaching your kids to recognize the letters of the alphabet is an important part of any preschooler's development. It's a skill that will help them when they start to read, and there are lots of fun activities to help them learn.
Exposure to letters is an important starting point for teaching letter recognition. Start pointing out letters in books, in environmental print, and in their names.
As your kids begin to notice letters, you can then progress to activities like using magnetic letters on a refrigerator, abc games, letter activities, and letter books that can help your child learn and remember the alphabet.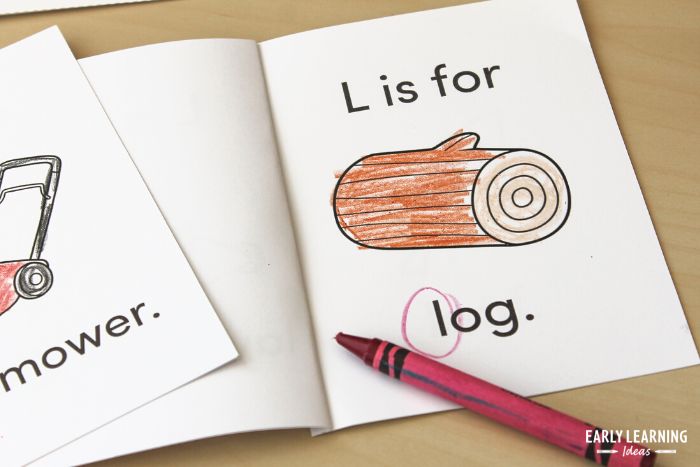 Get creative and make it fun! With enough practice and dedication, your child will be recognizing all uppercase and lowercase letters of the alphabet in no time!
With some creativity and patience, you can make learning the letters of the alphabet fun and help them build a strong foundation for reading and writing!
Which Age is Best for Teaching the Alphabet?
Preschool is the perfect age to start teaching the alphabet! With simple activities such as matching letters, you can help your kids begin to develop their letter recognition skills.
You can also use songs, books, games and a variety of multi-sensory activities to build alphabetic knowledge. Creative learning activities are a great way to engage students in the process of learning and mastering the alphabet.
How to Use Printable Letter Books for Preschoolers to Teach Letters
The great thing about these individual alphabet books is that they provide a variety of ways to practice all the abc's. Your kids can work on
uppercase and lowercase letter recognition
letter sounds
letter formation
The Cover Page of the Alphabet Booklets
The cover page on each book has both large uppercase and lowercase letters.
You can use the big, bold letters on the cover in many different ways to help your kids learn to recognize the letters of the alphabet and practice letter formation.
Kids can color the letters with crayons, color pencils, or markers
Provide q-tips and some paint. Kids can dip their q-tip in paint and create dots to trace the letters.
Provide a fun multi-sensory experience and show your kids how to finger-trace the letters.
Give your kids multiple colors of crayons, markers, or colored pencils so they can rainbow write the letters on the front of each book.
Letter and Sound Pages in the Individual Letter Books
Inside, the alphabet books for each letter all include 3 picture pages. These picture pages will help kids identify the sound associated with each letter.
The text on each page is simple and predictable with the high-frequency words "is" and "for" so that kids can easily read it. They can also identify the uppercase and lowercase letters, and color the pictures.
Letter Formation Practice Page
The last page of each little booklet is a alphabet formation page (this is not included in the full-page version). Kids can trace the letters and then write the letters. Starting dots will help reinforce correct letter formation.
If your kids aren't ready for tracing and writing letters, just omit this page.
Two Sizes of alphabet Books for each letter
When you download the pdf for these books, you will find two different sizes in the set.
The little books are the perfect take-home activity for your kids. I also recently added a full-page book for each letter of the alphabet. These larger books will be a great addition to your class library. Laminate them and you can use them over and over again.
Printing Options for Both Classroom or Homeschool Use
I used to hate assembling little emergent readers, so I designed these little books so that they print four books per page, and they are super easy to assemble.
Before I show you how to assemble these DIY booklets, let me show you the printing options in the set. When you download the pdf, you will find a class set and a home set.
Class Set: The class set has four copies of 1 book on each page. This printing option allows you to print a set of books (multiple copies of 1 letter) for your entire class quickly.
Home Set: More and more people are homeschooling these days. With the home set, you can print four different books per page so that you can easily print an entire set of books (multiple letters) for 1 just child.
How to Assemble Letter Books for Preschoolers
Select the style of little alphabet book that you want to print (class set or home set). The books print 4 per page. Each little book includes a cover page, 3 alphabet/picture pages, and a ABC formation page. Stack one set of pages neatly together.
Next, staple the set together. Place two staples on the side of each book cover, as shown in the photo below.
Finally, cut the set apart to create four separate books. TADA!!!!! Easy Peasy…right?
How To Assemble the Books – Video Tutorial
Do you prefer to watch a video? Well, check out this assembly direction tutorial. It's old, but I think you will get the idea about how to prep the alphabet books for each letter.
Download Free Letter A books for preschoolers
Are you ready to try out one of the printable letter books with your kids? You can download a free copy of the letter A book today….it's a freebie in my store. Try it out. I know that you will love how easy the booklet is to assemble!
What Preschool Teachers say About These ABC books:
⭐⭐⭐⭐⭐"This was so much fun to read with my kiddos and have them read at home too! This was a huge lifesaver on prepping books for kids as it was easy to create my own larger copies and copies to send home!"
Remy k.
⭐⭐⭐⭐⭐"The abc books provide a variety of ways to work on letter recognition, identify the names of letters, learn letter sounds, visually discriminate letters, and practice letter formation!"
kathy O.
⭐⭐⭐⭐⭐"These little books are great. My kindergarten intervention groups love to color the pictures and trace the letters. It's a fun thing for them to take home to show their families. Plus they are SO EASY to put together."
Kathryn O.
Purchase The Printables Today
Are you ready to help your kids learn the alphabet? You can purchase the full alphabet book set for preschoolers and kindergarteners in the store. Click on the picture below to purchase the fun alphabet letter books today. You can also get the alphabet books as part of the Alphabet Bundle.
Purchase The Alphabet Books for Each Letter on TPT
Do you prefer to shop at Teachers Pay Teachers? You can also purchase the Alphabet Books in my TPT Store.