Easy Art for Kids: How to Paint with Pool Noodles
Use pool noodles to make easy art for kids. The fun foam tubes are versatile, inexpensive, and just the right size for little hands. Here are tons of ways to use pool noodles for art activities for preschoolers.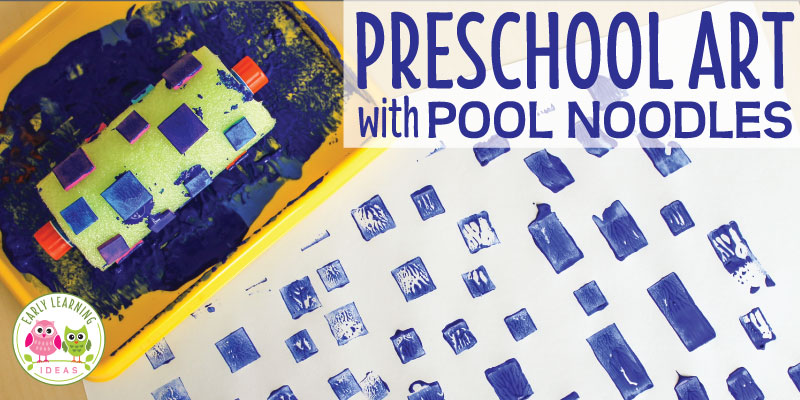 Fine Motor and Easy Art Projects
It's pretty easy for kids to stick things into the soft foam of a pool noodle….it also happens to be a great fine motor activity. Your kids can experiment with making paint stampers by sticking different things into the end of a section of a foam noodle. Looping and twisting pipe cleaners can be a fun project….and produce a fabulous work of art.
Metal brads not only make an interesting design…but they make an interesting noise when kids stamp the paint onto the paper. What are some other things that kids could "stick" into the pool noodle? How about tiny silk flowers or toothpicks?
Easy Art with a Cut Pool Noodle
Use a serrated knife to cut sections of pool noodles in half, or cut wedges out of the end of a section of a pool noodle. Obviously, you don't want kids helping with this process, so you will need to prep this before your kids are ready to paint. Your kids can dip the pool noodles into the paint to see what kinds of designs they can make.
Wrap the End of a Pool Noodle
Wrap the end of a pool noodle with different materials and let kids experiment with the different textures that result. Here are a few mesh bags that are held in place with a thick rubber band. We found that thinner paint created more texture on the paper than thicker paint. What did you discover?
Crumpled foil can be wrapped around the end of a pool noodle as well. I loved the result of this one. There was sooo much texture! Let kids find different materials to try. Does the texture remind you of anything?
Attach Items to the End of a Pool Noodle
Here, I attached a Dollar Store bow to the end of the pool noodle with hot glue. You could attach this to the end of a block or a spoil also, but the pool noodle is just a great size for hands to easily grasp. This would be a fun process art activity to make during the Christmas season…with Christmas colors of course.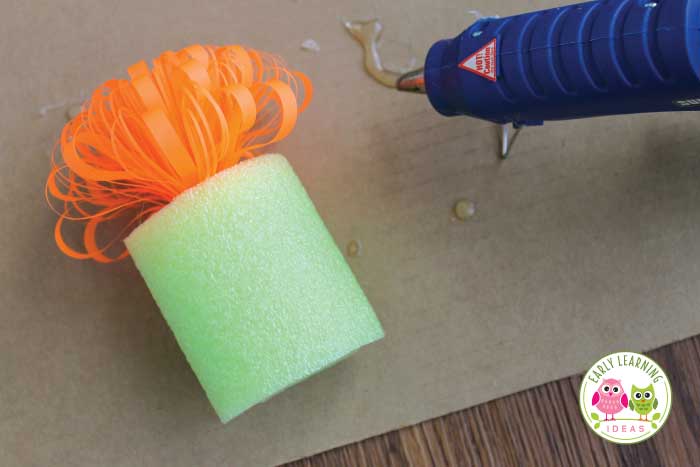 Shape Rollers
Your little artists will love DIY pool noodle paint rollers. Wanna know what I used to make the rolling pin handle? They are up-cycled empty glue sticks! For this project, I used hot glue to connect the tops of two glue sticks together. I cut the pool noodle to the perfect length so that glue sticks fit perfectly in the center of the noodle. Kids can grab the handles and the noodle actually rolls. We stuck square foam stickers all over the noodle…and check out the result! So much fun! What kind of foam stickers are you going to use? You can also wrap things like rubber bands and even spider webs around the outside of the foam noodle.
More Pool Noodle Paint Rollers
Use a large drill bit to drill holes into the noodle. Be very careful doing this… the drill bit can slip. It's defiantly something that you don't want kids to help you prep. I cut this roller a little longer than the one above, so I glued the glue stick handles in place with hot glue. Painting with the roller results in a crazy Swiss cheese-type painting. Next time, I think I'm going to cut stripes out with a knife……see how much fun it is to create with these things!
You can let kids stick things into the side of the roller too. Again, this is a great fine motor activity. It also makes for a very interesting design. Next time I'm going to dig some wire out of my husband's workshop to see how that looks.
Well, hopefully, I have given you lots of ideas for easy art for kids. Do you have any additional ideas for using pool noodles for process art projects? I would love to hear them in the comments below.
Are you looking for additional ideas to spark creativity? I bet your kids will love these counting and creating STEAM activities from my store. Click on the images below to check them out.