Preschool Activities with Mini Erasers: 40 of the Best Ideas
Get free sorting mats & learn 40 preschool activities with mini erasers. You will love these fun ideas for literacy, math, & fine motor.
I hear many preschool teachers express excitement when they score some adorable mini-erasers from the Target Dollar Spot. I also hear many preschool teachers ask, "What's the big deal with mini erasers?" and "What can you do with mini-erasers?"
Well, I'm going to tell you ALL about mini-erasers.
I'll tell you why they are so awesome and where to find them.
I'll also help you with some storage solutions.
Most importantly, I will give you LOTS and LOTS of ideas to use mini-erasers for learning activities with your kids
…and don't forget to pick up the free mini-eraser sorting mats at the bottom of this article.
This post contains some Amazon affiliate links for your shopping convenience. There will be no additional cost to you if you purchase something from the link, but I receive a small commission each time someone purchases through one of the links.
WHY ARE MINI-ERASERS SO AWESOME?
One of the best things about mini-erasers is that they are pretty inexpensive. I have been able to find them in ALL KINDS of styles for various themes, seasons, and holidays.
This makes it really easy to use erasers to create a learning activity to go with a thematic or seasonal unit or lesson plan
I also love that the little gems are very versatile and I can use them in MANY ways. So can you!
WHERE CAN YOU BUY MINI ERASERS?
Because teachers are pretty crazy about little novelty erasers, you can find them in various places. Here are some places where I have bought some of the erasers in my collection. Plus, check the bottom of this post for some links to fun erasers on Amazon.
Target Dollar Spot – Check frequently. Sometimes they sell out quickly.
The Dollar Store – I often see them in the seasonal area.
Hobby Lobby – I often see them in the seasonal area (as stocking stuffers, Easter baskets, etc.) plus check the party goods.
US Toy – I was lucky enough to live close to one of their stores when I lived in Dallas.
Oriental Trading – Watch for free shipping deals.
Amazon – See links at the bottom of this post.
HOW TO STORE MINI-ERASERS
As you start to see how many ways you can use the little gems, you will soon have more mini-erasers than you know what to do with. Here are some ideas for storing them.
Slime Containers – I pick up a few slime containers every time I shop at Michaels and I store my erasers in those. I like them because they are clear and I can easily see what is inside each jar.
Deli Containers – Wash out and recycle your containers or you can get new ones specifically for erasers. They stack nicely.
Photo Storage Boxes – Craft stores also sell storage cases for the photo storage boxes.
Hardware Storage Units – You can also store erasers in hardware storage drawers
HOW TO USE MINI ERASERS FOR FINE MOTOR ACTIVITIES
First, let me begin by saying that you know your kids best. Mini-erasers can present a choking hazard, so do not use them with kids who put things in their mouths.
MOVING AND SORTING
Fingers: The size of little novelty erasers is perfect for pincer grasp activities. Kids can pick them up and place them in containers, muffin tins, ice cube trays, or divided plastic containers.
Tongs, tweezers, or training chopsticks: To make the activity more challenging, ask kids to use tweezers or tongs to pick up the erasers.
STACK THEM
Stack the erasers. How many can you stack?
USE ERASERS WITH CLOTHESPIN CLIPS
Hot glue erasers to the end of a wooden clothespin clip. Kids can clip them onto cans, a piece of cardboard, a wooden paint stick, etc. For a challenge, try smaller clips.
I made this fun counting and fine motor activity by attaching number cards to floor sample squares.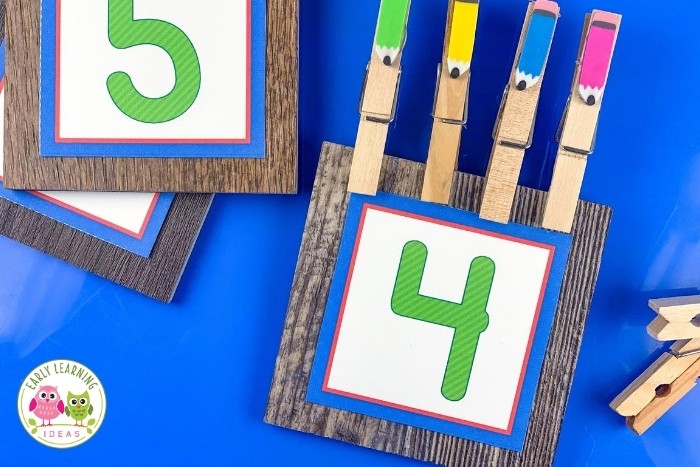 TRACE AROUND THEM
Kids can hold the eraser with one finger and trace around them with a pencil or crayon.
ERASE WITH THEM
Sounds like a genius use for an eraser, right? Make some pencil marks, shapes, or letters on a piece of paper. Encourage kids to erase your line.
USE MINI ERASERS FOR MATH ACTIVITIES
COUNTERS
Use mini erasers with number cards or number mats. Kids can practice counting and comparing quantities.
TEN-FRAME GAMES
Transform some ten-frames into a fun thematic math game and fine motor activity.
GRAPHING
Kids can grab a handful of mixed erasers from a bowl. They can then sort the erasers by style on the free mini-eraser sorting mats. Which kind has the largest number? Which has the smallest number?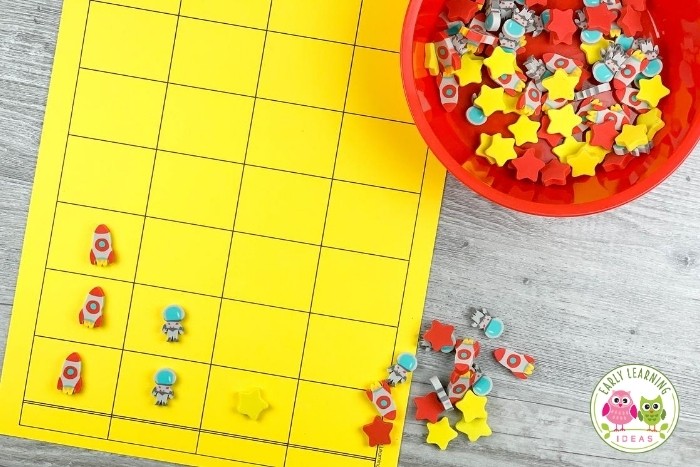 SORTING
Kids can sort the erasers by style, category, or color. They can sort them in containers, onto graphs included in the free mini-eraser sorting mats.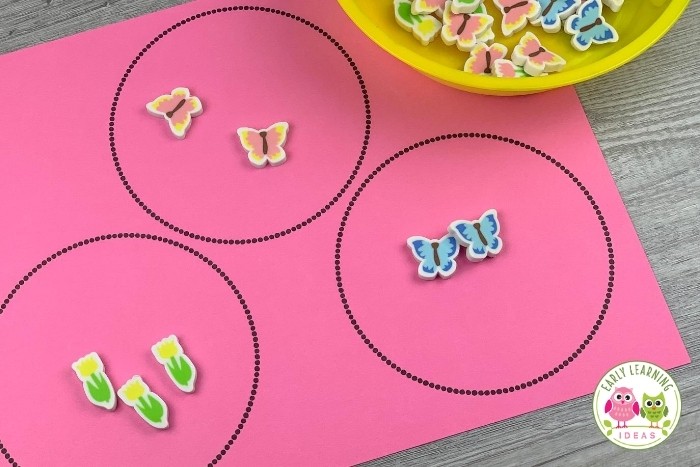 MEASUREMENT
Length– Use erasers for nonstandard measurement.
Area – Provide some circles (or other shapes) in a variety of sizes. Use one style of eraser to fill the circles. Compare and discuss the number of erasers that fill each circle.
Weight – Fill small containers with mini-erasers and other materials. Compare their weight using a bucket scale.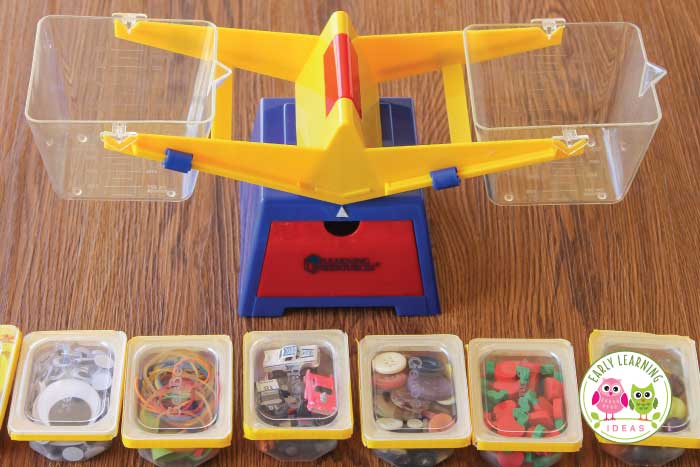 NUMBER FORMATION ACTIVITIES
Kids learn to recognize and write numbers when they use erasers to trace large numerals on a playdough mat or number activity mat.
MARKERS FOR ROLL & COVER GAMES
Use little erasers as markers for roll and cover games.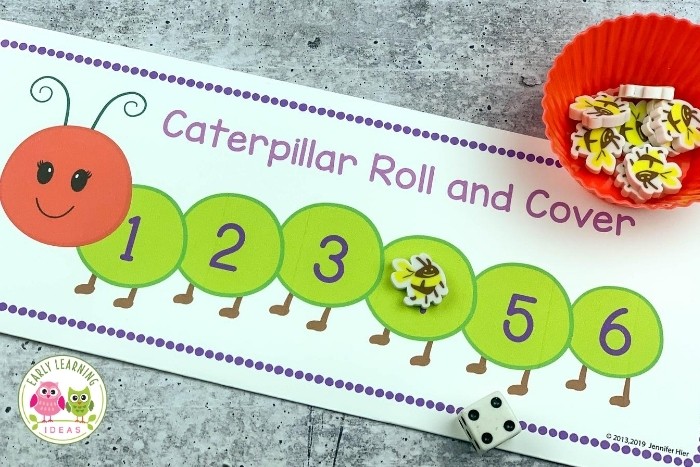 PATTERNING ACTIVITIES
Create a variety of patterns with the erasers. You can start a pattern and ask kids to continue it, or challenge them to create their own patterns.
BUILD SHAPES
Work on shape recognition by tracing shapes with the erasers.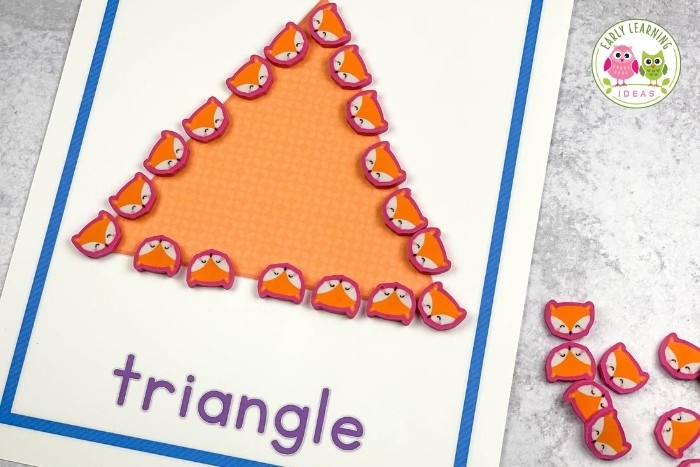 COMPOSING AND DECOMPOSING NUMBERS
Kids can work on building numbers by using two different types of erasers.
SUBITIZING
Place a small number of erasers in a group. Show them to children and ask them to quickly identify how many are there.
COLOR ACTIVITIES WITH MINI ERASERS
Sort erasers into colored cupcake liners or onto colored pieces of paper.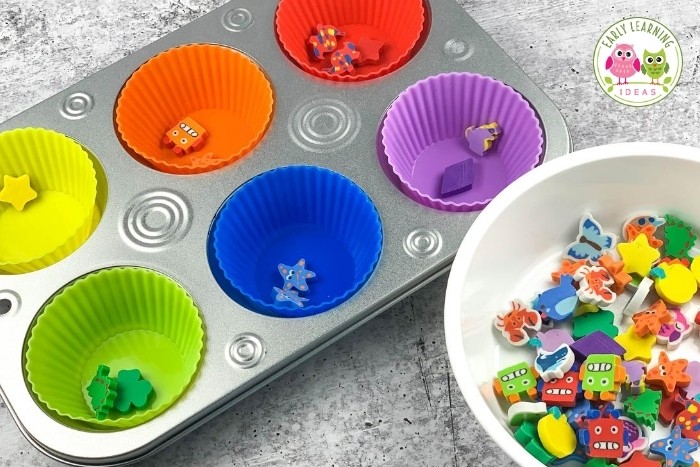 Sort the erasers in the Venn diagram included with the mini-eraser free sorting mats.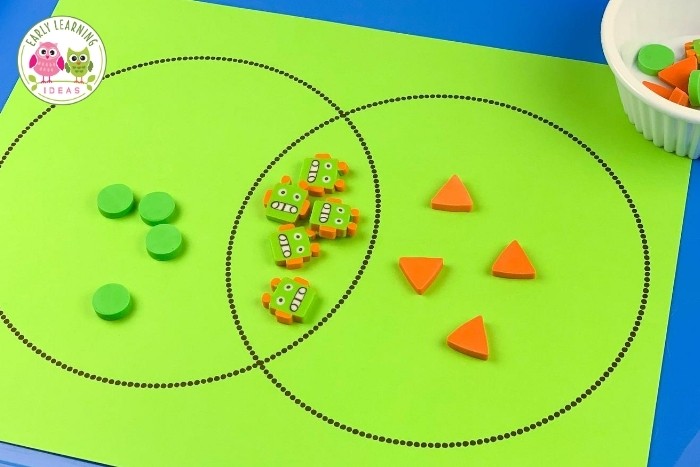 LITERACY ACTIVITY IDEAS
LETTER TRACING
Kids can learn to recognize and form letters by tracing them with erasers.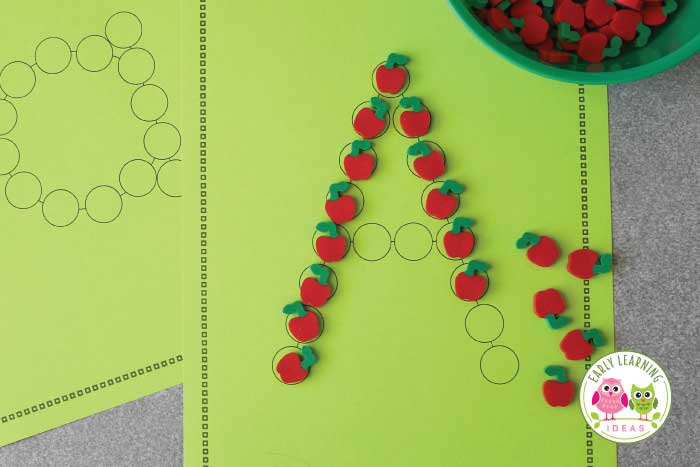 BEGINNING SOUND ACTIVITIES
Use novelty erasers to reinforce letter sounds in alphabet activities.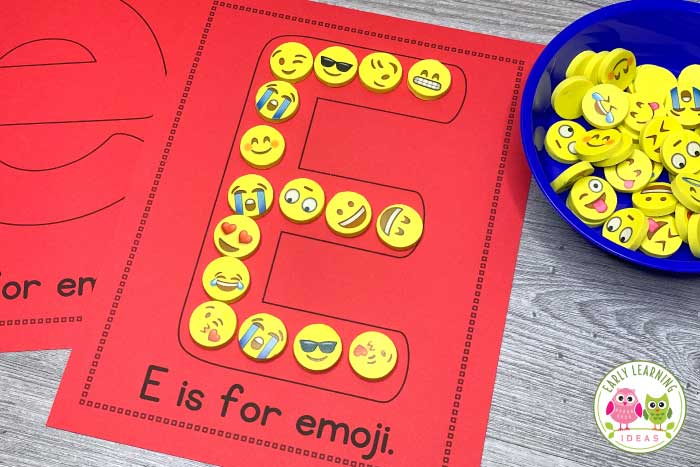 Kids can also sort the erasers by beginning sounds.
ADDITIONAL LITERACY ACTIVITIES
Put them in the writing center and kids can use them as story-telling props.
Use them for syllable segmenting.
Prepositions – Kids can place erasers in, on, under, behind, or next to a container or prop.
USE MINI-ERASERS FOR SENSORY ACTIVITIES
Don't forget about using mini-erasers for sensory activities. Try these ideas: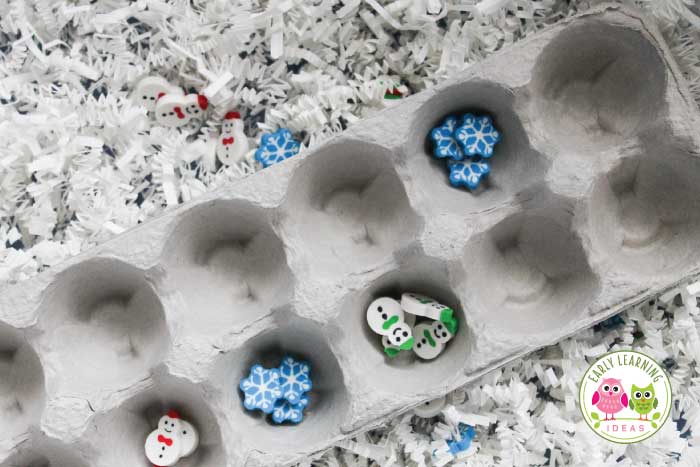 ADDITIONAL IDEAS
Here are some additional ideas:
Glue them to a block and use them as a stamp.
Use them for lotto or bingo game markers.
Play tic-tac-toe with two styles of erasers.
Use them as rewards. Kids love collecting the adorable little gems.
HOW ARE YOU GOING TO USE MINI-ERASERS?
I hope that you try out a few of these fun preschool activities with mini-erasers. I would love to hear your favorites.
GET A FREE MINI-ERASER SORTING MAT SET
Try out mini-eraser sorting activities with some free printable sorting mats. I'll send the mats directly to your inbox after you complete the form below.
I listed some items below that you can use for the activities mentioned in this article. The links below are affiliate links. Amazon will not charge you an additional fee if you purchase something from a link, but a small portion of your purchase will be used towards the cost of maintaining this website.