Teaching the Alphabet with 10 Exciting Multi-Sensory Activity Ideas
Children learn the letters and their sounds through varied and repeated exposure and practice with the alphabet.
What Literacy Concepts Should Kids Know Before Kindergarten?
There are a variety of opinions on exactly what kids should know before entering kindergarten. You can find suggestions for kindergarten readiness from school districts or state education associations or professional organizations.
While readiness lists include a variety of self-help, language, and social-emotional behaviors, each list typically includes some items from the math and English language arts domains.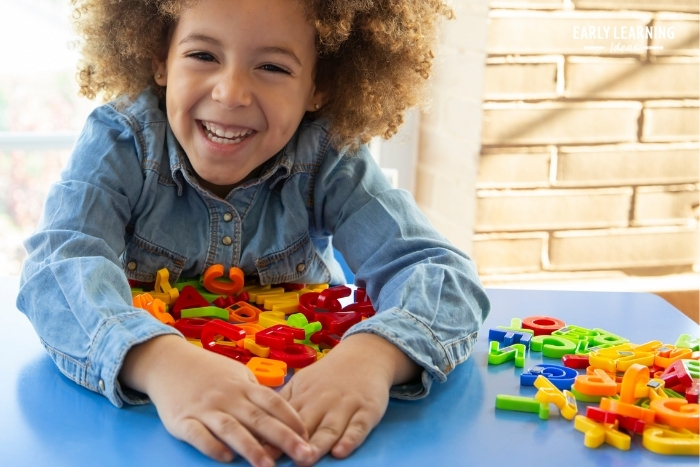 Typically some of these literacy foundational skills are found on the kindergarten readiness lists. While each child learns at a different pace and instruction should be provided in a developmentally appropriate way, these are some of the skills that will help kids learn to become fluent readers and writers.
Recognizes or identify some letters of the alphabet
Identify sounds of some letters
Differentiate between sounds that are the same and different
Identify the beginning sound of some words
Recognize environmental print (familiar signs or logos)
Demonstrate book awareness (understand that books are read front to back, top to bottom, left to right…. and can retel a simple story)
Recognize name in print
Attempts to write first name
How Do I Start Teaching the Alphabet?
One of the best ways to start developing alphabet awareness is by focussing on the most important letters in a child's life – the letters in his or her name. Name activities are a fun and meaningful way to start introducing kids the letters and sounds of the alphabet.
After learning the letters in their name, children will learn additional letters through varied and repeated exposure and letter activities. Multi-sensory alphabet activities are fun, exciting, and effective.
What are Multi-Sensory Activities
Multi-sensory activities engage more than one sense at a time and give kids more than one way to connect with what they are learning
Why are Multi-Sensory Activities great for Learning Early Literacy Skills?
Kids need to use auditory skills to develop phonological awareness and phonemic awareness. They need to use visual skills to learn phonics. So….multi-sensory activities are necessary to learn to read. But you can enhance learning by using more senses. When kids learn something with more than one sense, they will more likely remember the information.
10 Multi-Sensory Alphabet Activity Ideas
Now….on to the fun part. I love creating playful alphabet activities for kids. Here are 10 multi-sensory alphabet activities for your kids.
Playdough Letter Smoosh
Form letters with coils of playdough. Say the sound of the letter as you smoosh fingerprints into the coil.
Salt Tray & Air Letters
Say the sound of a letter as you write it with your finger in a salt tray. Say the sound as you use your finger to form the letter in the air.
Songs with Actions
Sing songs that combine letters, sounds, and movement. Singable Songs for Letters and Sounds by Heidi Songs is a great one to check out.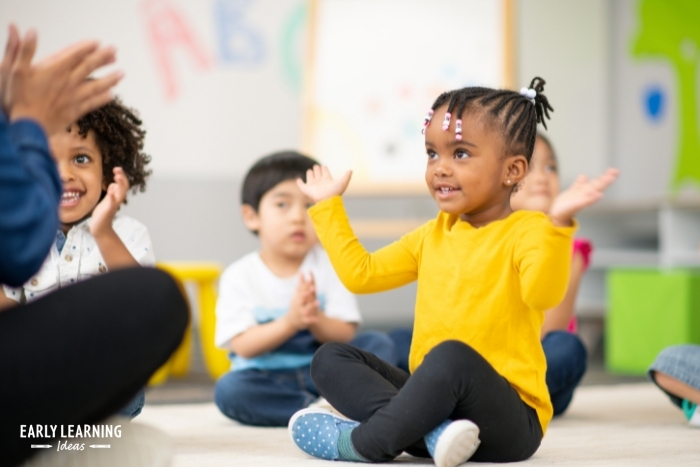 Tactile Letters
Glue items on a letter to create a tactile letter card. Use your finger to trace the letter and say the sound.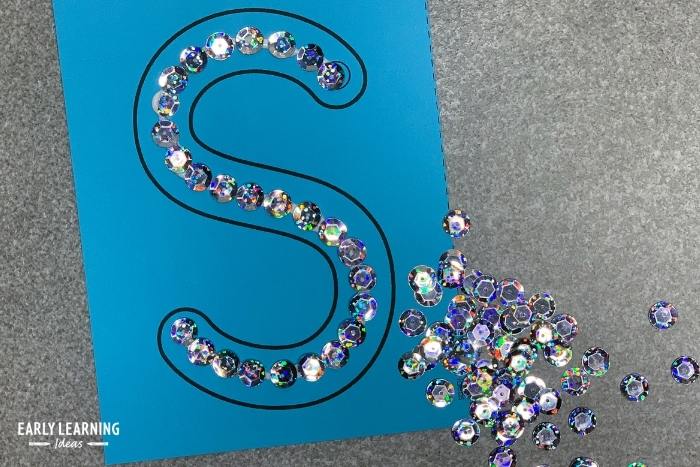 Letter Parade
Create a large letter on the floor with masking tape. Pretend to play a musical instrument as you march around the letter. When I worked in a preschool in Columbus, Ohio, we always played Ohio State Marching Band Music. You can even show them a video of Script Ohio for inspiration.
Don't forget to pretend that your instrument makes the same sound as the letter.
Letter Racetrack
Create a large letter on the floor with masking tape. Trace the letter by driving toy cars over the lines. Don't forget to pretend that your car makes the letter sound.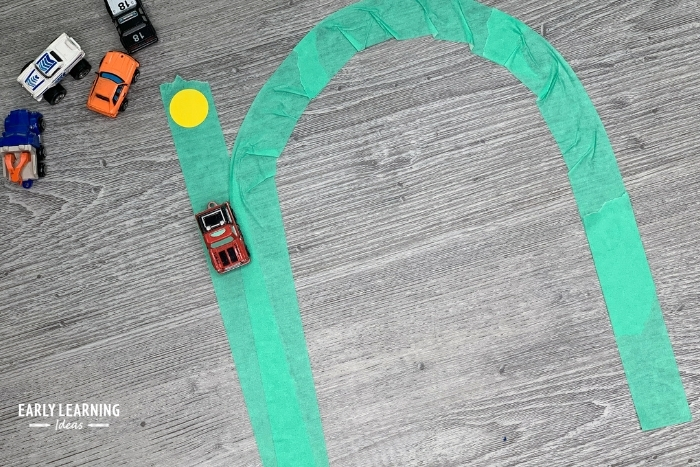 Animal Parade
Walk or swim a toy animal over a letter. Pretend that the animals say the name of the letter as they walk.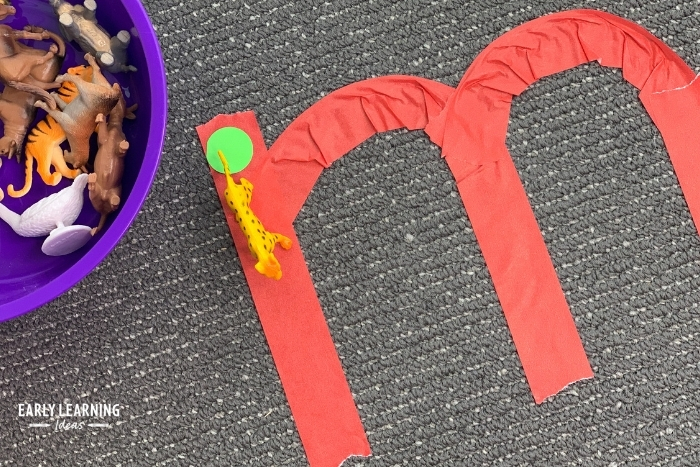 Pick Up & Place
Use tweezers, tongs, or clothespin clips to pick up pom-poms, mini-erasers, or rocks. Place the objects on a letter as you say the sound of the letter.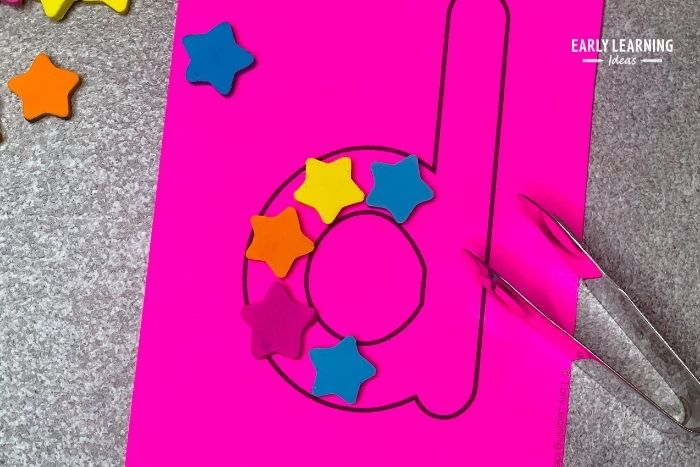 Fuzzy Letters
Create letters with chenille stems. Trace the fuzzy letter with your finger as you say the sound of the letter.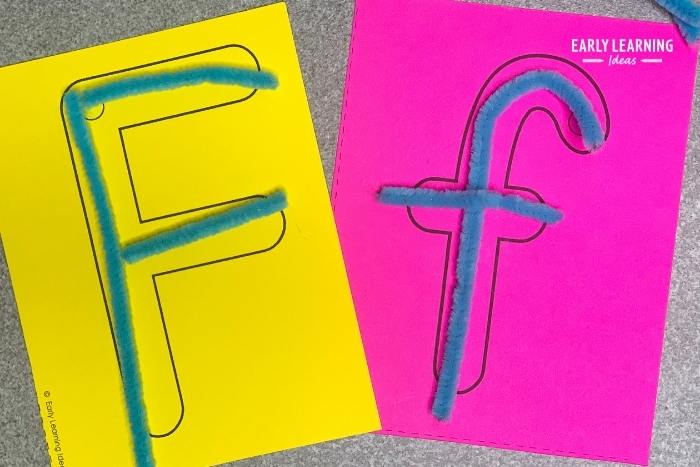 Drive Around Letters
Place letter signs on the floor. Drive toy cars around the signs. Say the letter sound as you drive around it. This is a FUN way to teach letter recognition.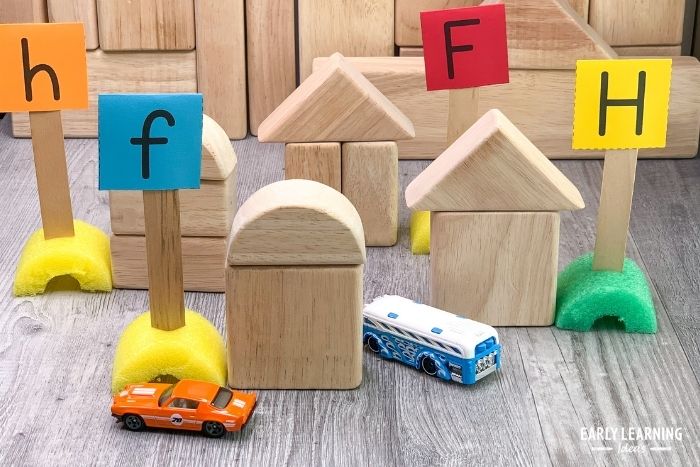 Get Your Free Printable
Are you ready to start trying some of these fun multi-sensory alphabet activities today? Let me send you my FREE Multi-Sensory Alphabet Activity Guide.
The free printable includes all of these activity ideas PLUS it includes the printable letter signs pictured above in the drive around activity. Fill out the form below and I will be happy to send the free printable directly to your inbox.