How to Make Easy Train Activities for preschool with these train puzzles
I designed these train name puzzles to use as a fun name activity, but I'm excited to share how many different ways you can use this fun, editable puzzle for a variety of train activities for your preschoolers.
JUST Purchase the puzzles
No Time to Read The Whole Article?
Here are the quick links to purchase the train puzzles.
These printable train puzzles are a perfect addition to your transportation theme unit, a train theme unit, and a Polar Express theme unit. You can also use it as a easy and fun train craft activity to accompany books such as Freight Train, The Polar Express, Steam Train, The Little Engine That Could, Dream Train, and Goodnight Train.
Do you know a preschooler who loves to play with toy trains? This will be an INSTANT HIT!
What Preschool Teachers say About This Name Activity:
"My students love this activity. We read the book Freight Train and then used this resource to make our own name freight train!"
Rachel P.
2 Styles of Train Puzzles for a Variety of Activities
Like all of my printable name puzzles, the train activity set includes 2 options for the puzzles. you can print a train puzzle with big, bold, black letters on each of the train cars. This style is great for a variety of preschool activities.
You can also print train puzzles with outline letters on each of the train car puzzle pieces. The outline letters work great for coloring. Your kids can also trace the letters to practice letter formation and writing their names.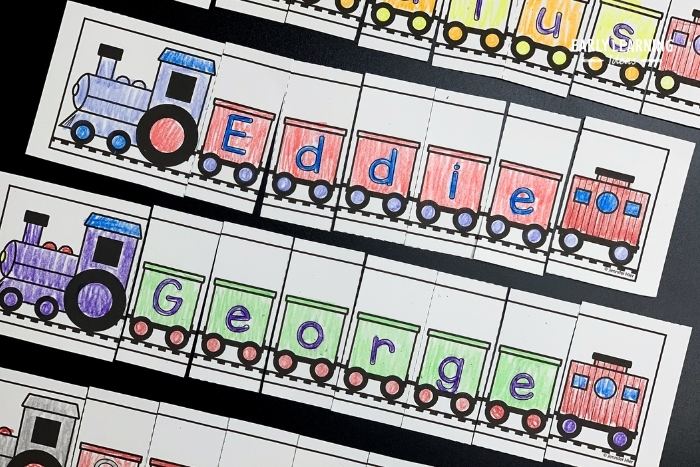 How To Make The Train Puzzles
Don't worry, you don't have to be a big tech-savvy person to customize these transportation theme puzzles. It's easy peasy to quickly make train activities for each child in your preschool class. The directions included with the document will help you:
Add your kids' names to the Class List Form
Use the Print Planner Page to easily determine which pages to print
Once you are done customizing and printing your train puzzles, all you have to do is cut them out. Although, it might be a good idea to laminate them first because I know that your kids are going to want to use the over and over again.
What Preschool Teachers say About This Train Activity:
"My students absolutely love this activity! Anything to do with their names is always fun, and then you add in trains and they went crazy! This was quick and easy prep for me as well, which is always a bonus 🙂"
Rachel L.
How To Organize Your Train Theme Puzzles
I have also included custom labels to help you organize your train activity puzzles. Attach a label to an envelope or bag and store the matching puzzle pieces inside.
Here is another piece of organizational advice. Create your train puzzles in a variety of colors so that it is easier to sort them if your kids get the puzzle pieces mixed up.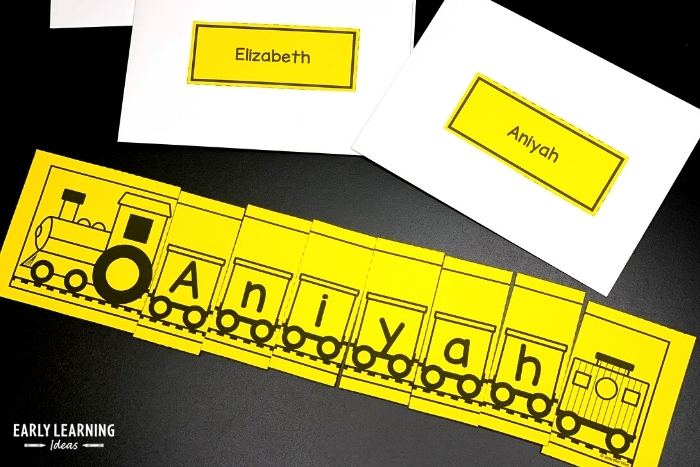 Train Literacy Activities
Okay….now let me show you a bunch of different ways to use these fun custom transportation puzzles. I'll start with some train theme literacy activity ideas.
Train-Theme Name Recognition Activities
Obviously, your kids can use the puzzles to work on learning to recognize and learn to spell their names (which are important steps as they learn to write their names). Here are some additional ways that you can use the puzzles for literacy activities.
Train Theme Letter Recognition Activities
Encourage kids to look for duplicate letters in their names.
Do any of the letters share similar lines or shapes? How many are tall, have tails, have dots, have slants, etc?
Does anyone else in the class have a name that starts with the same letter?
Does a classmate's name have any of the same letters as their own?
Train-Theme Beginning Sounds Activities
Can you hear the b sound at the beginning of Benjamin?
Do any of your friends' names start with the same sound?
What other words start with that sound?
Train-Theme Letter Formation & Tracing Activities
Encourage kids to practice letter formation by finger tracing each letter on the puzzle pieces.
Print the outlined text version of the train puzzle and use them for a letter or name tracing activity.
Train-Theme Syllable Recognition Activities
Clap out the syllables in the name or word on the puzzle to emphasize and count the syllables.
How many claps are in the name Na-than?
What about Na-ta-sha?
Which has more claps?
Train-Theme Rhyming Activities
Create silly rhymes by changing the first letter of the name or word (For example…. cat rhymes with sat or Jennifer rhymes with Bennifer)
Complete a Friend's Train Puzzle
In addition to working on spelling their own names, kids will enjoy putting their friends' puzzles together.
Are some of the letters the same?
Is the sound at the beginning different?
How many letters are in this name?
Which name has more letters?
Train Math Activities
I created the name puzzles to use for literacy-based activities, but you can also use the for some math activities.
Train Patterning Activity
Print a few name puzzles in different colors. Instead of adding names to the class list form, make 1 puzzle with letter A's on it, one with letter B's on it, and another with letter C's on it.
After cutting out the puzzles, kids can use the different colored train cars to make patterns.
Train Counting Activity
Instead of customizing a puzzle with letters, you can also add the numbers 1-9 to create a counting activity for your kids.
You can only add 1 digit per puzzle piece. If you want to create a train counting puzzle with more than 9 cars, you can print a few blank puzzles and then write the numbers on each of the cars.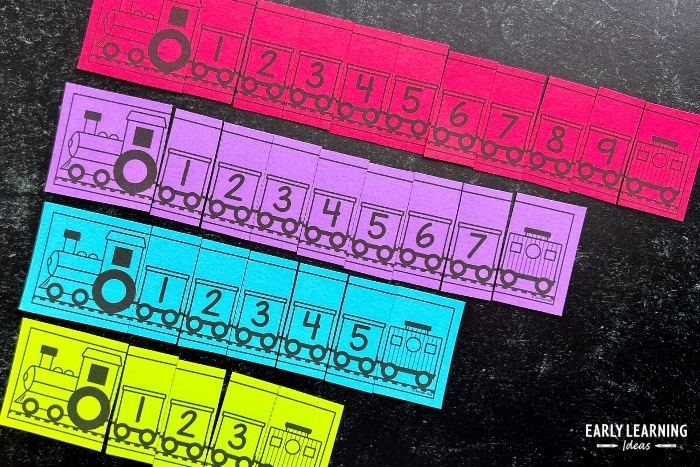 What Preschool Teachers say About This Train Activity:
"We used this during our theme unit about trains. After putting their name trains together, I put them on the wall and we counted to see who had the longest, shortest, same number of letters names."
Lisa M.
Additional Train Activities
In addition to literacy activities and math activities, here are a few more ways that you can use the train activity puzzles.
Fine motor/scissor skills practice– Let kids cut out the train puzzles on their own.
Glue them down– Use this as a fun and easy train craft activity. Kids can glue their puzzle pieces onto a sentence strip. Kids can even expand the train tracks or create a background for their trains.
Bulletin boards – After completing the fun train craft, you can add the sentence strip name trains to a bulletin board or as hallway decor.
Not Just for Names!
Don't forget that you can customize these puzzles with more than just names. Use your imagination. Think spelling words, sight words, color words etc……see ALL KINDS OF TRAIN ACTIVITIES for your kids.
Purchase the Train Activity Puzzles Today
Are you ready to work on name practice with these puzzles? You can purchase the Editable Train Name Puzzles in my store.
Do you prefer to purchase from Teachers Pay Teachers? You can also get the train activity puzzles in my TPT store
Additional Puzzles Activities for Your Preschoolers
Want to learn about how to use custom printable puzzles? Check out these additional articles on Early Learning Ideas.