The Best Painting Activities to Promote Fine Motor Skills in Kids

Are you looking for some new fine motor activity ideas? Maybe you are looking for some new ideas for art activities for preschoolers. Sometimes, it's really fun and easy to combine the two. So, today I'm going to show you some great painting activities to promote fine motor skills.
Squirt Gun Painting
This is my absolute favorite example of painting activities to promote fine motor skills. PLUS…this project is perfect for a hot summer day. Your kids will have a blast making squirt gun paintings!
Spray Bottle Painting
Use spray bottles to create a great work of art and build hand strength. You can add paint to the spray bottles.
Looking for a spray bottle painting activity with less mess? Add squares of bleeding tissue paper and spray it with water.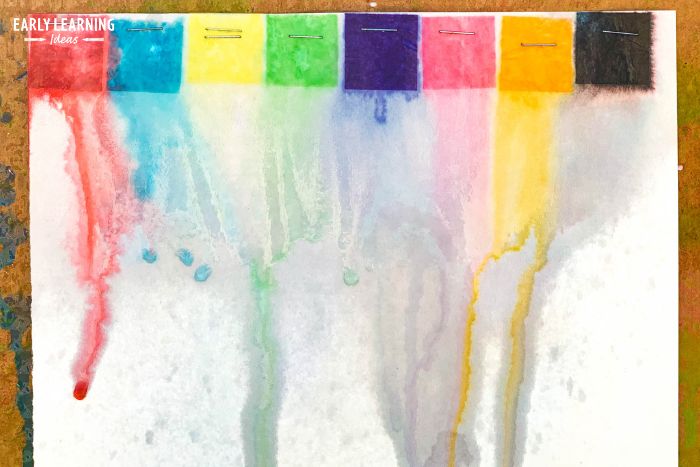 Puffy Paint in a Squeeze Bottle
Mix up some puffy paint and put it in a squeeze bottle to create a textured painting. Try out this puffy paint recipe by Meaningful Mama.
Q-tip Painting
Add a small amount of tempera paint to some bottle caps or to a paint tray. Kids can use a cotton swab to paint a dotted design or to trace letters.
Dropper Painting
Add liquid watercolor or food coloring to small containers. Kids can use a pipette or eyedropper to add paint to a paper towel or other absorbent material.
We folded the paper towel and added drops of the solution.
It was fun to unfold the paper towel to reveal the design.
Clothespin Painting
You can make your own paintbrush with a clothespin clip. Supply several different materials. Kids can pick up the materials with the clothespin and then experiment with different painting techniques.
Dot Marker Painting
Get out the bingo markers and let your kids use them for painting activities. They can use them on a blank piece of paper for a free art activity or print up some alphabet dot pages for an alphabet painting activity.
I hope that you have a blast trying some of these painting activities to promote fine motor skills with your kids. Which activity is your favorite?
Additional Fine Motor Resources
Are you looking for additional fine motor activities for your kids? Check out these fun resources in the store.