Here is a simple snowflake fine motor activity for kids. Kiddos have so much fun punching holes in these paper snowflakes. Download the free printable snowflakes today.
---
Are you looking for fun ways to help kids strengthen their fine motor skills? Kids love playing with hole punches. Put them to work punching holes in this snowflake printable that is perfect for winter.
This snowflake activity is part of the Fine Motor Hole Punch Activity Set that is available in my store. The free snowflake printable is a great winter-themed fine motor activity that they will certainly enjoy. If you like the free sample page, you can get more hole punch activity pages for the whole year.
Supplies Needed
Here are the supplies that I used to make our snowflakes.
paper in blue, lilac, pink, and white
scissors
hole punches
You may also want to use some additional supplies like crayons, markers, glitter glue, sequins, gems, etc. to decorate the paper snowflakes.
Printing the Snowflakes
To get started, print the snowflakes. Printing on colored paper always looks nice. But we are talking about snow….so they will look great on white as well. The snowflakes print four per sheet. You can easily cut the paper into quarters and place a pile in a fine motor or art center for your kids.
Use the Snowflakes for Fine Motor Practice
Kids can begin by practicing cutting with scissors as they cut on the dotted line around the snowflake.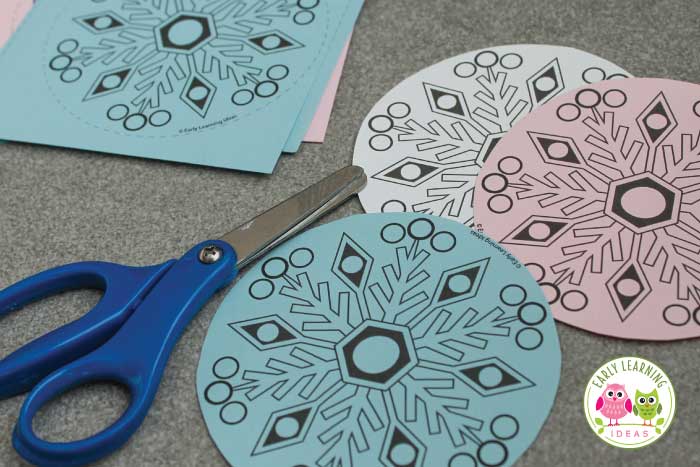 Then, kids can punch out all of the small circles around the snowflake with a hole punch.
Finally, the fun fine motor activity can become a creative activity. Kids can decorate their snowflakes with crayons, glitter glue, etc.
++
Additional Ideas
Looking for additional ideas to use these cute printables? Try some of these:
Use them to decorate a Christmas tree, or room.
Spread them on a table for table decor.
Experiment with different kinds of hole punches.
Don't want to use a hole punch? Kids can use cotton swabs to paint the dots.
Attach a snowflake to a gift bag or present as a gift tag.
Download the Simple Snowflake Printable
Are you ready to get your snowflake printable? Complete the form on this page and I will set you up to receive weekly ideas for Early Learning Ideas….AND I'll send the snowflake printable directly to your inbox.
Purchase the COMPLETE Hole Punch Activity Set
Do you want fun hole punch activities to use all year long? Click on the image below to purchase the Fine Motor Hole Punch Activity Set from my store.
I hope that you and your kiddos enjoy making and decorating my snowflakes. Are you looking for additional fine motor activities for your kids? You might also enjoy these resources from my TPT store. Click on the image below to check them out.