30 of the Best Fine Motor Math Activities for Preschoolers
Are you looking for some great ideas for hands-on math activities for your kids? Here are over 30 fun fine motor math activities for preschoolers.
Fine Motor Counting Activities
Tongs or Tweezers
You can find many fine motor tools in your kitchen.
Grab a pair of tongs from your kitchen drawer. Add a set of number cards and some counters (like mini erasers or pom-poms) and you have a great fine motor counting activity.
Kids can use a fine motor tool to add a number of items to this maker mat.
Building Numbers
Use small blocks, or unifix cubes to represent numbers.
You can also build Lego or Duplo number towers – by Frugal Fun 4 Boys
Counting and Measuring with Legos – The Imagination Tree
Clip Counting Activities
Pick up some clips at the dollar store and kids can count and add the clips to a numbered craft stick or wooden paint stick.
Use count & clip cards. You can use number clip cards with clothespin clips, binder clips, or paperclips.
Counting with Beads
Combine craft, counting, and fine motor together with these winter counting necklaces.
Kids can count beads on pipe cleaners – an idea from Laughing Kids Learn
Add beads to spaghetti noodles – an idea by the Imagination Tree
Hole Punch Counting
Kids LOVE using a hole puncher. Provide some number cards or dice along with some hole punch strips and you have an exciting math activity.
Hole punch books are also a super fun fine motor and math activity.
Combine Math & Cutting Practice
Make little number books with these free cutting practice mini book templates.
Cutting strips and counting practice – Provide a strip of paper, a pair of scissors, and a die. Kids can roll the die and cut that number of squares off their strip.
Sticker Math Activities
You can also use stickers for simple fine motor math activities. Create a number book with stickers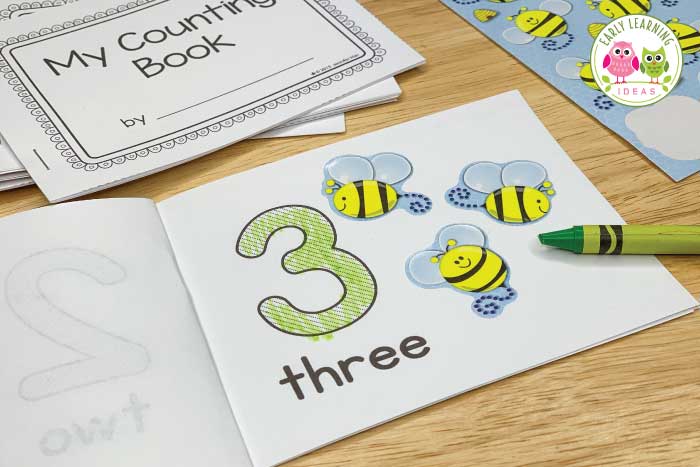 Add dot stickers to number cards or boxes – by Busy Toddler
Dot sticker Uno math – by Happy Toddler Playtime
Playdough Math Activities
Playdough activities provide an opportunity for open-ended play along with a great fine motor and sensory experience for kids. It is also pretty easy to introduce math concepts into playdough play.
Playdough Mats
Use number playdough mats or shape playdough mats.
Playdough Trays & Kits
I love to put together a creative playdough tray or a playdough kit. Add number cards, magnetic numbers, or plastic number tiles along with the materials to encourage playful math activities.
Fine Motor Patterning Activities
Here is another fine motor activity with kitchen items. Use toothpicks, a sheet of foam, and cereal to make a colorful (and yummy) counting, patterning, and/or sorting activity.
You can make a similar activity with golf tees – by Buggy and Buddy
Kids can also create patterns with beads on pipe cleaners, or they can create patterns as they create a necklace or bracelet.
Don't forget that you can use office supplies for fine motor activities. It's super easy to make a pattering activity with colored paperclips and some card stock.
Use stickers or craft noodles to make a patterned caterpillar, or kids can use tongs to place colored pom-poms on the caterpillar segments.
Fine Motor Shape Activities
Use mini erasers or rolls of playdough to outline shapes on a playdough mat.
Add stickers to the outline of a shape by Busy Toddler
Construct shapes with popsicle sticks, Legos or toothpicks
Fine Motor Graphing and Sorting Activities
Use tongs or tweezers to sort objects like mini-erasers or counters onto a sorting mat.
Kids can also sort objects into divided containers, egg cartons, muffin tins, etc.
Are you ready to try out one of these fun fine motor math activities? Let me know which one is your favorite.
Find Fine Motor Math Activities in the Store
Check out these fun printables from the store. Click on the images to learn more about each resource.