Tearing Paper Activities: This is How to Improve Fine Motor Skills
Are you looking for a fun and easy way to help your kids build strength in their hands and develop their fine motor skills? Try tearing paper.
Yes….seriously…tearing paper is an excellent fine motor activity to help your kids build and refine muscles in their little hands.
Why You Should Encourage Kids to Tear Paper
Tearing paper helps kids in the following ways:
Improve hand-eye coordination
Improve the ability for hands to work together
These skills provide the foundation that will enable kids to write and use scissors.
More Benefits of Paper Tearing Activities
The thing that I love about paper tearing activities is that they are fun activities that do not require any fancy materials.
Inexpensive – You can seriously use trash for paper tearing activities. Use up those scraps of paper and empty out the recycling bin. Art materials can get any cheaper than that.
Creative – Art and craft projects that use torn paper are not going to be cookie-cutter crafts. Each creation will be unique and creative.
Easy to prep for a send home activity – Are your kids learning remotely. It's really easy to include a printable, some scrap paper, and a glue stick in a send-home packet. The project is also easy for parents to do at home with their kids.
What Kinds of Activities Can You Do with Torn Paper?
From creating a sensory bin filled with torn paper to craft activities that include tearing and pasting, there are many ways you can use paper tearing activities with kids. Let me show you some ideas.
Paper Tearing in the Sensory Table
The act of ripping paper itself can be an activity. Add scrap paper to a sensory table for a fun fine motor and sensory activity.
You can adapt this activity for many different seasons and/or themes. Use white paper or tissue paper with plastic snowflake ornaments or plastic polar animals for a winter theme sensory table.
Use brown and green scrap paper and cardboard to create a habitat for insects, worms or spiders.
Paper Tearing and Pasting Activities
Kids can tear and then paste the pieces of paper in a variety of projects. They can use torn paper to create a letter collage and work on letter recognition.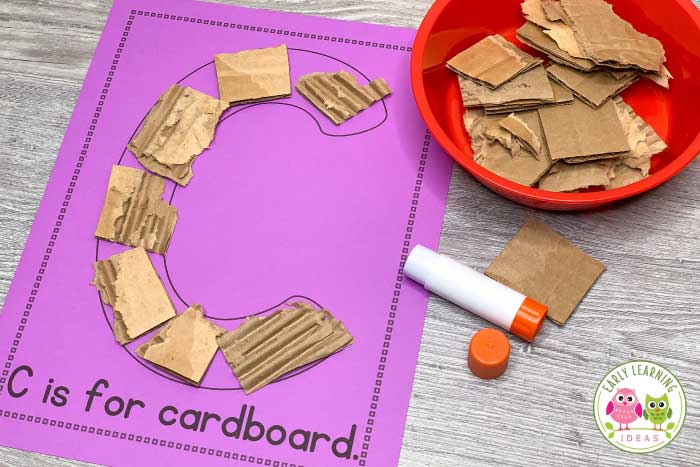 Kids can rip paper and glue the pieces to make shapes.
They can outline names or sight words.
Use simple thematic printables for a fun fine motor activity for any occasion.
3-D Collages with Torn Paper
Add some glue and water to torn construction or tissue paper. Kids can stir it together to make a nice pulp. Let them spoon it out onto a piece of cardboard to create a 3-D sculpture, design, or even a tower. Check out even more ideas for torn paper art.
Additional Torn Paper Activities
Fill a bottle or container with paper – Create a fun fine motor activity by adding torn paper to a plastic bottle as demonstrated by The OT Toolbox.
Make props for dramatic play – Kids can help you make props for a dramatic play area. You can use torn paper to make toppings in your taco truck dramatic play area. Tear up green paper to create a salad for your grocery store dramatic play area.
You can also rip paper to create space food for a space-themed dramatic play area. Have fun and be creative.
I hope that try some of these fun paper tearing activities. Do you have additional ideas? I would love to hear them.
PURCHASE THE PRINTABLES
Are you ready to get started on some paper tearing activities with your kids? Check out these tearing paper printables in my store. These printables will help you create easy-prep fine motor activities for all seasons. Check them out in my store today.